" Taguig City: A Travel Gem Exemplar "
"See, Live Or Invest In This City"




Taguig City meets your travel measures. As a component city of Metro Manila, it provides a most exciting central business district. It gratifies.
It can meet your simple-to-elegant wants for a place to see, live or invest in. It nestles the Bonifacio Global City, the Philippines' emerging top CBD.


Have You Been To Taguig City?
Share with the world your thoughts, experiences or story about Taguig City. Just fill the form below.




Getting There And Around
Fly in to Manila and get to Taguig City in 10 minutes from the Manila Airport.

Once around, you can move by bus, jeep, taxi or tricycle. Car rentals are available too.



Useful Information
Map and Weather

Here's a simple map of Taguig... (Image: Courtesy of © Roel Balingit / Wikimedia Commons / CC-BY-SA 3.0)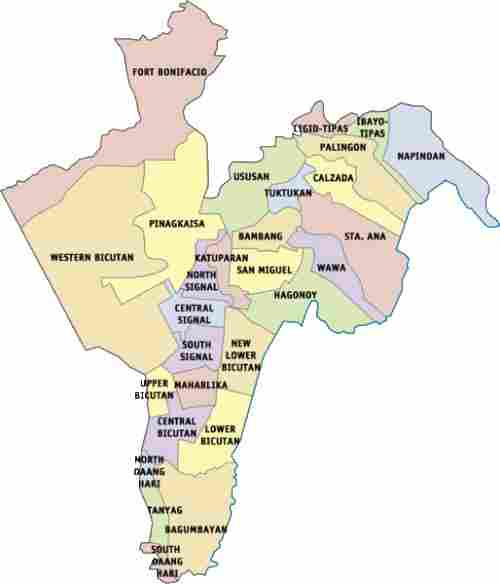 The March-May summer months are hot and dry. It's rainy in June-November, and cool and dry in December-February. Temperature = 21°C-32°C; average is 26.4°C.
Brief History
Taguig was settled first by 800 farmer-fishermen. Succeeding generations revolted against the Spaniards, Americans and the Japanese. It became a city in 2004.
Here is its administration building...

Taguig City Hall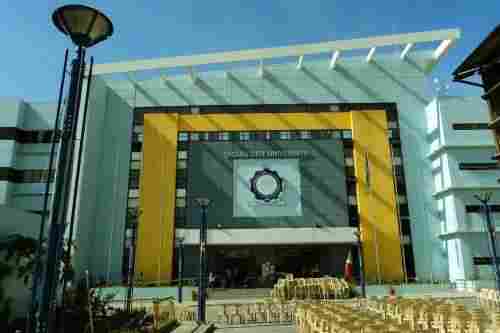 Health, Schools and Churches

Taguig nestles the country's premier, most advance and world-class hospital to meet your needs.
St. Luke's Medical Center-Global City


Image by: commons.wikimedia.org

For your or your family's school needs, Taguig's BGC offers topnotch international schools…
International School Manila
Korean International School Philippines
Chinese International School Manila
British International School
Here's one interesting international school I wish one of my children will aspire for…
Enderun Colleges/Les Roches Int'l School of Hotel Management


(Image by: foodnotebook.blogspot.com
And this church built in 1587 endears…
Archdiocesan Shrine of St. Anne


Image by: wikimapia.org



Things To Do In Taguig City
Sightseeing
Don't leave Taguig without seeing the 440-hectare Bonifacio Global City (BGC). It's the country's premier central business district.This enclave employs piped-in gas lines to its residents, locators and tenants… a first in the Philippines.
Bonifacio Global City (still developing)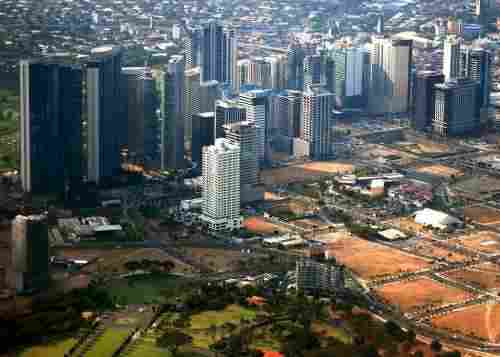 Image by: skyscrapercity.com

A part of BGC you should see is the retail zone Bonifacio High Street…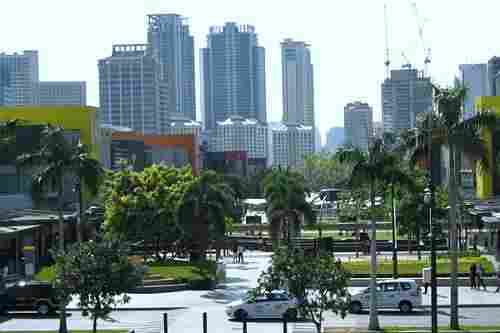 Another is BGC's entertainment lane The Fort Strip…

Another is BGC's McKinley Hill township development. (Image by: skyscrapercity.com).

Another worth seeing is this lifestyle enclave One Serendra…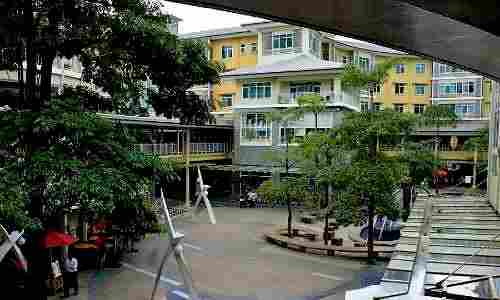 And this unique weekend lifestyle market at Corner 8th Avenue and 34th Street, BGC called Mercato Centrale. (Image by: marxtermind.com).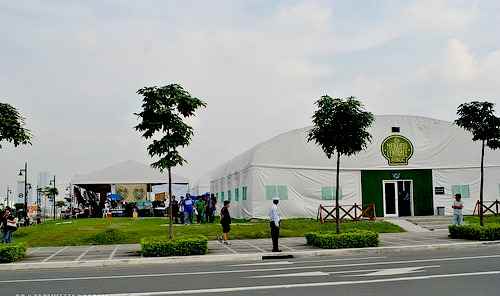 Shopping
Pick your buy at Market! Market!...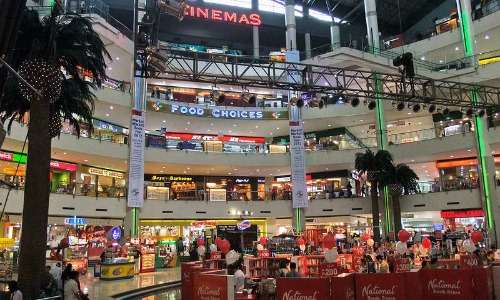 Or at Venice Piazza Mall at McKinley Hill, BGC (Image by: thephilippinesandbeyond.com).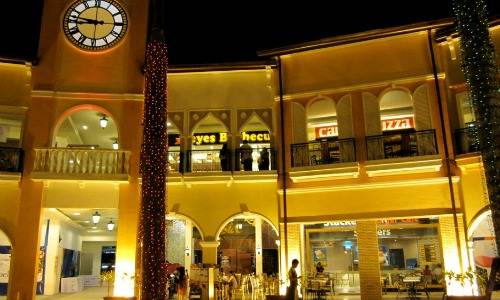 Nightlife
Promenade at BGC's Bonifacio High Street at Night…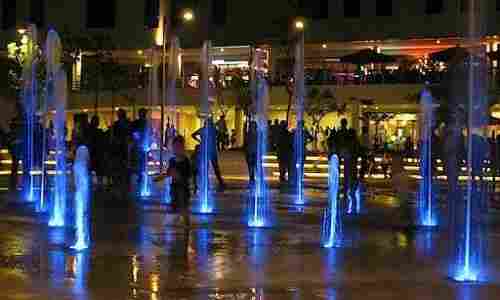 Among the many, sip coffee at Figaro Coffee (Image by: virtualtourist.com).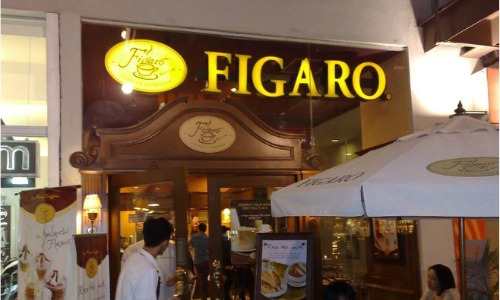 Among the many, drink, dance, or hear music at The Fort Strip…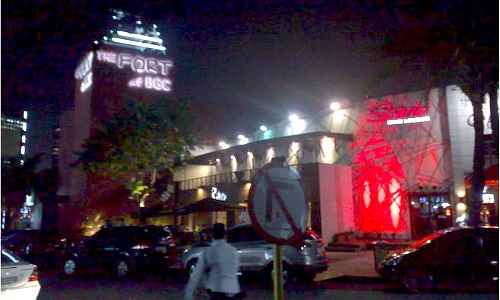 Dance at Encore Super Club (Image by: globalcitynights.com).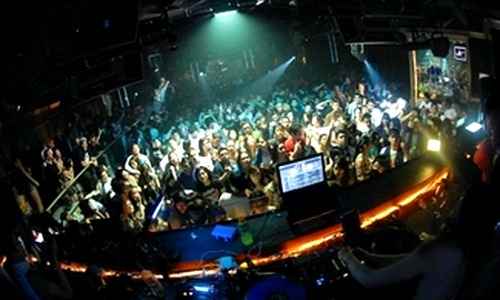 Dance at Draft Gastropub: European Style Pub (Image by: asia-bars.com).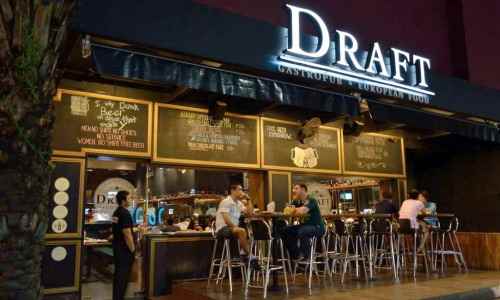 With $12.50 (P500), you can try many affordable restaurants and bar in BGC. At G/F The Fort Strip, Porcelain Resto & Bar is a winner. (Image by: globalcitynights.com)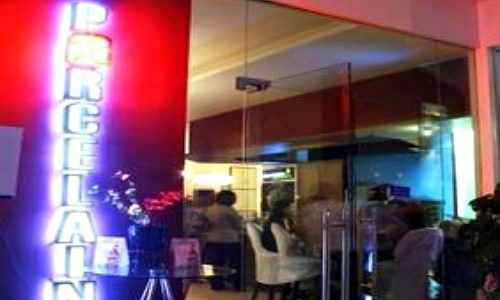 Museums To Visit
See the Philippines' first interactive, world-class science museum at BGC - Mind Museum (Image by: skyscrapercity.com).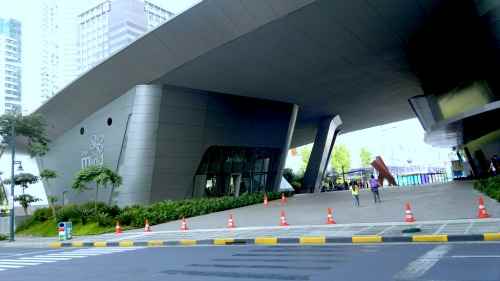 The Army's counterpart, Philippine Army Museum and Library…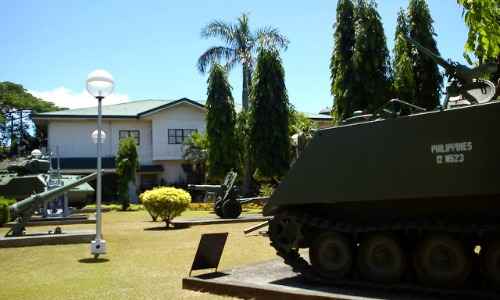 And the veterans' own at Western Bicutan, Philippine Veterans Museum…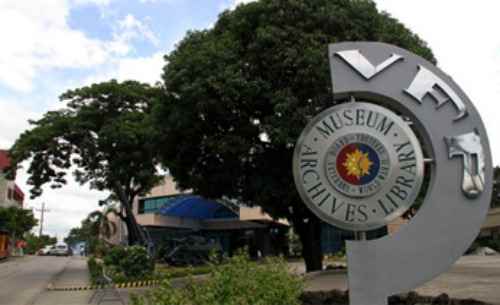 Golf
There are 2 golf courses in Taguig City… the 18-hole Philippine Navy Golf Club and the 9-hole Army Golf Club.
At times I go to the Navy club with fellow retired Philippine Marines to sip some Philippine beer.
Philippine Navy Golf Club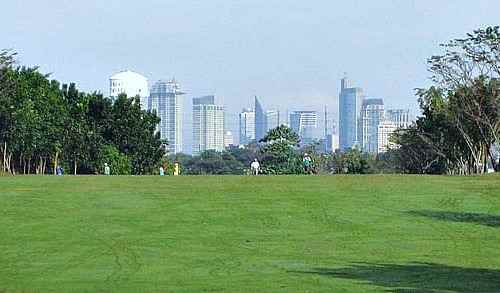 Lodging in Taguig City
Here is a profile of the prevailing lodging rentals in Taguig for your short or long term purposes…
Apartment, 2-3 Br, furnished = US$853-1,707/mo.
Condo, 2-BR, semi-furn= US$1,463-2,926 (1-Yr)
Condo, 3-BR, semi-furn = US$4,146-6097/mo.(1-Yr)
The hotel industry in Taguig is still young. Many units are scheduled for construction. The two early entrants are…
Best Western Hotel, a luxury hotel at BGC (1st to open);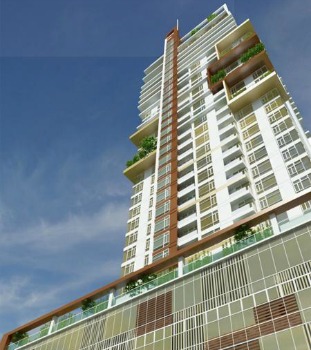 And Kukun Hotel, a boutique hotel of the Ayala's also at BGC.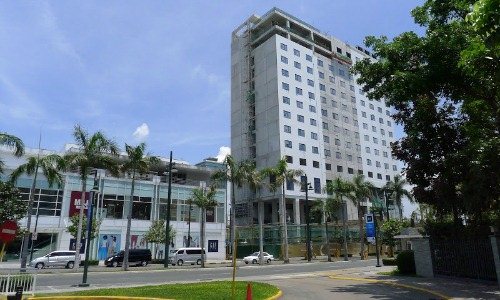 Image by: skyscrapercity.com

Where To Eat
Taguig has 243 restaurants in (2012), mostly at BGC. At $5-167, you would have your fill in any of them.
I really love this Chef Laudico Bistro Filipino at G/F, Net 2 Bldg., 3rd Ave., Fort Bonifacio. Tel. No. 856-0634 (Image by: spot.ph).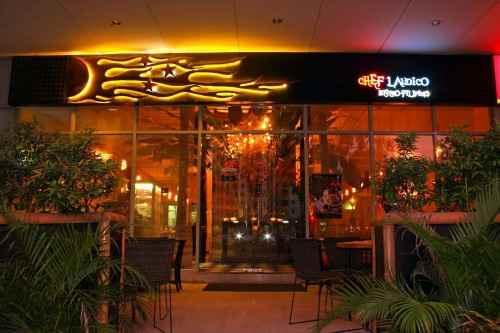 And this one, Aracama Filipino Cuisine at Unit C The Fort Entertainment Center, Katipunan Circle Fort Bonifacio (02) 519-6815 (Image by: ristn.com).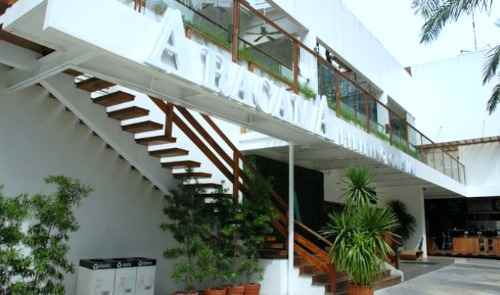 Live/Retire in Taguig City
Like elsewhere in the Philippines, the people of Taguig are easy going and contented. Their smiles are always there 24/7. They make good neighbors.
There's a nice place to stay in Taguig… BGC. You could buy a condo unit there for US$73,170- 731,707. Or you rent at US$341-4,146/month.
Among others at The Fort, you may rent at One Serendra Apartments…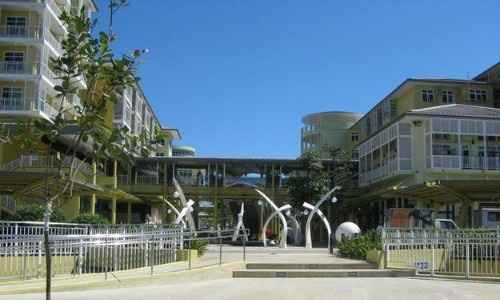 Business in Taguig City
There are 1,139 companies in the city as of 2012. You can add yours to the count. You need 15 steps, 27 days and 6.9% of your minimum paid up capital to open business.
You will have your banking needs fully met in Taguig.
Labor-wise, there's plenty of highly trainable, artistic, creative and English-speaking Filipinos highly fit for blue-collar to top managers.
Real-estate-wise, Taguig's BGC is exploding with high-rise residences. Demand outpaces supply even as the FTI Complex envisioned development comes around. This may indicate a 10-year trend or longer.
Overall, the cost of doing business in Taguig is 35% cheaper than in the US. The best indicator is the minimum daily wage of P420.

Wrap Up
Taguig City can match your travel desires. It can meet your gauge for a place to see, live or invest in.
Most of Taguig's attractions are concentrated in BGC, which is still developing.
If you want to clarify something, please Contact Me.
Want to experience Taguig City?
Convinced? Come and SEE, LIVE or INVEST in The Philippines.
---
Have You Been To Taguig City?
Share with the world your thoughts, experiences or story about Taguig City. Just fill the form below.

---
Like This Page?
---
---
Return from Taguig City to Philippine Cities