" Philippines Tourism Brings
Top Delight "
"Experience Exceptional Enjoyment
And Affordability In Vibrant
Philippines Tourism"
Philippines Tourism lends exceptional fulfillment and best affordability to your Philippines vacation. Feel it at Puerto Galera and other Philippine resorts and win.
The Philippines offers you tons of delights. The islands give your cravings great fill. You could spend $230 in 6 days… a hint. Fair enough?
Yes, you could only agree how reasonable it is to see the Philippines. Even more exciting is the multitude of endowments, the things to do, and the related activities you can encounter. Some of the astounding ones merit your list. Mark them because each outshines on people's minds.
Here they are …


Share Your Thoughts About The Philippines
Do you have a story or experience to tell about the Philippines? Share it here with the world. Just fill the form below.


Some Stunning Aspects Of Philippines Tourism
Philippine Resorts … Alluring And Top Notch
Philippine resorts are sprouting everywhere. Many are becoming world-class destinations. There are all inclusive resorts, destination resorts, island resorts, beach resorts, golf resorts, spa resorts and tropical resorts. Your choices have grown.
Here's one in Panglao, Bohol, a gem of Philippines tourism…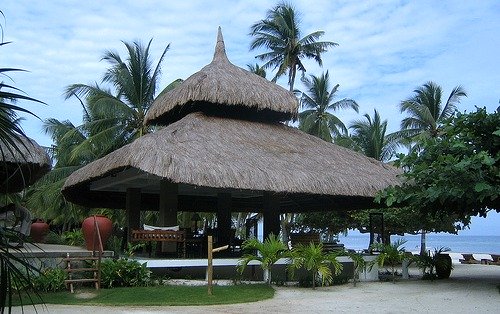 Image by: aukgal | flickr.com
You can have a very rewarding break in your Philippines vacation these days because destination Philippines is now a vastly improved option… getting at par with the world's best. Tourist arrivals increase each year… it was 9% in 1999.
The Philippines has enjoyed the highest repeat visitors in Asia at 54.22 percent, indicating that the tourism sector can survive external threats and competition in the region.
Here's one explanation why, a sunset view in Siargao Island, Mindanao, another gem of Philippines tourism…


Image by: pccebu | www.flkr.com
Manila Philippines Leads The Pack
Manila Philippines tops the list of political-jurisdiction-specific destinations in the Philippines. World tourism has known Manila first before other Philippine destinations. It's the common entry point to the country… from it you radiate around.
Manila Philippines has all kinds of hotels, foods, peoples, events and diverse city attractions.
Cebu Philippines holds Cebu the province, Cebu City and 6 other cities. It's a complete destination!... all kinds of hotels, food, and very diverse attractions are there. It has the most number of tourist spots in the country… many are firsts in the land. It's conducive to business too.

Davao Philippines ... A Gem Of Mindanao
This immense Philippine destination holds the Davao region and has 4 provinces and 5 cities. It has everything for your simple-to-elegant tour measures. Lodging, food, adventure, water activities, nightlife, shopping, festival… add more to the list and Davao has it.

Bicol … The Chili Country
This destination holds the Bicol region of 6 provinces and 6 cities. Its people, the kind Bicolanos, can't live without chili. It is the country's whale shark capital… where the first ever whale shark riding done by an intrepid Bicolano has been recorded so far. Bicol nestles Mayon Volcano, dubbed the world's most perfectly coned volcano.
Here's a shot of the volcano, a strong landmark of Philippines tourism…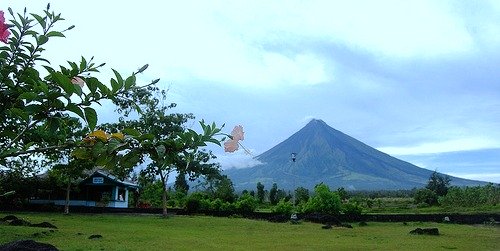 Image by: Joebenick Badiola | www.badjography.com/
Puerto Galera … Among The Philippines' Best
This Philippines tourism destination is actually the name of the town in Oriental Mindoro where it is located. It is 110 kilometers south of Manila. It has placed Mindoro Island prominently on the world tourism map.
Back in the 80's, some European tourists initiated it to become a tourist haven. It's now a world-class destination to make your Philippines vacation memorable. It is popular for snorkeling… a world class scuba diving site.
Here it is, c/o Philippines tourism this page…

Image by suxumuxu | www.flickr.com
This island Philippines tourism destination is very popular. Among its leading attractions are the Chocolate Hills, the Philippine tarsier, its beautiful world-class beaches, and its very diverse diving sites which are among the world's very few remaining ones.
And the people there are very, very friendly. They eat the purple yam called Ube… and they tend to live long, like my mother and grandmother.
Meanwhile, here's a stunning view of Alona Beach in Panglao, Bohol, a jewel of Philippines tourism…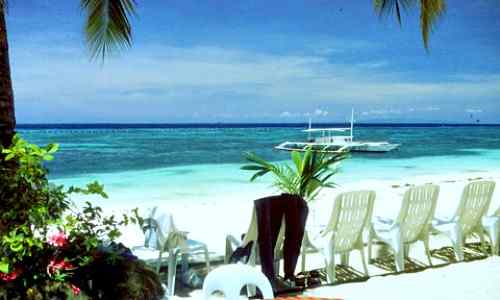 Image by: Martin van der Veer
Palawan Philippines … The Last Frontier
This is one of the country's most popular must see beautiful island destinations… blessed with powdery white sand beaches and crystal clear pristine blue waters. It is located in the MIMAROPA region. It is enchanting, it is a paradise… considered the last frontier of the Philippines. It is for you.
It has a 30-kilometer underground river, one of the World's New 7 Wonders of Nature, of which 8 kilometers is allowed for tourist visits. Palawan has many beautiful beaches, superb diving sites and scenic landscape. It is the Philippines' biggest province and has over 1,700 islands.
Here's the entrance view of the subterranean river, c/o Philippines tourism this page…
Source: Henrique Bente, Brazil, flickr.com/semparadeiro
Boracay Island … A Choice Island Getaway
Boracay island is the country's premier tourist destination… a world-class beach getaway. It is a lush tropical tourist resort island about 200 miles south of Manila… a hidden vacation gem on any budget. It has now become famous for kite boarding and windsurfing. You can party on the island until the wee hours. Its white sands will enthrall you.
Image by Msbernal | http://www.flickr.com
Chocolate Hills … A Mystifying Wow
Uniform hills to mystify you upon sight. You can't stop from wondering at how these hills came about. You can only muse "it's magical".
The hills spread over 50 square kilometers of land. They turn brown during summer, hence, 'chocolate'. There are also caves and springs in the area.
Here are the hills, c/o Philippines tourism...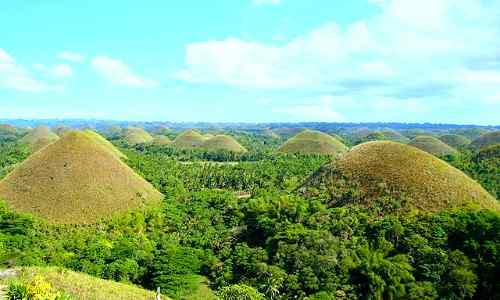 Source: Wikipedia
Banaue Rice Terraces … Wonder And Heritage
You will wonder at how those terraces were constructed out of primitive tools 2,000 years ago. You will wonder how the Banaue mountain people persisted, one generation after another, on sculpting the mountain slopes for food production using primitive tools. Your visit to the Philippines is incomplete without seeing the Banaue rice terraces… long been categorized as the 8th wonder of the world.
Take a look at this one angle of the terraces, c/o philippnes tourism…
Source: Wikimedia Commons
Philippine Festivals … Culture And History Expressed
There are more or less 622 festivals held in the Philippines every year to give more enthralling color to your vacation in-country. These events are held during town fiestas and are usually religious in nature because fiestas in the Philippines are celebrated in honor of a Saint. The top ones are…
Sinulog Festival of Cebu

Ati-Atihan Festival of Aklan

Kadayawan Festival of Davao
The Sinulog Festival is held each year on the third Sunday of January in Cebu City to honor the Santo Niño. The city overflows with people during this event… many are tourists. Its street dancing signature is the two-steps-forward-and-one-step-backward shuffle.
The Ati-Atihan Festival is the liveliest and wildest festival in the country. Drums beat continuously as everyone shouts "Hala Bira, Puera Pasma". It honors the Santo Niño and is flocked by many tourists. After the festival, the tourists hop to nearby Boracay to enjoy the beach.
The Kadayawan Festival is celebrated on the 3rd Week of August as thanksgiving for bountiful harvest. It is widely attended by local and foreign tourists.
Take a glance at this street dancing during the fest, c/o Philippines tourism…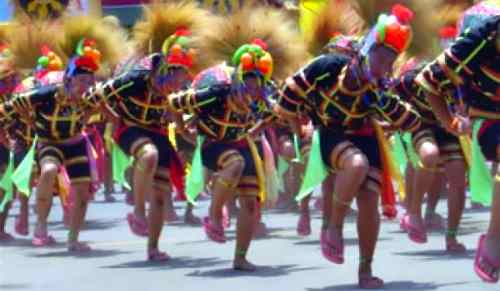 Source: Wikimedia Commons

There's another annual festival that deserves special mention… the Kaamulan Festival of Bukidnon. It's the country's only authentic ethnic cultural festival held in Malaybalay City, Bukidnon from mid-February to March 10. It marks the Foundation Day of Bukidnon.
Kaamulan celebrates the culture and tradition of the seven ethnic tribes of Bukidnon and consumates during the city fiesta. The Kaamulan is empty without the attendance of the natives… that's why it's increasingly getting popular for its sheer authenticity.
Here are real natives gracing the festival, a wealth of Philippines tourism…
Source: Wikipedia

For now…


A Wrap Up
You can experience exceptional enjoyment and affordability in the vibrant world of Philippines tourism. It awaits YOU!
Come SEE, LIVE OR INVEST IN THE PHILIPPINES.

---
You might love this too...
Boracay Budget Travel
Free Boracay Travel Guide to awesome beaches and beach resorts. Boracay or Borocay means Paradise. Meet Boracay girls. Enjoy the thrill of Boracay diving.
And...


---
Share Your Thoughts About The Philippines
Do you have a story or experience to tell about the Philippines? Share it here with the world. Just fill the form below.


---
Like This Page?
---
---
Back to top

Return from Philippines Tourism to Top Destination Choice The Philippines home page