" Bacolod City: Yet Another Top City Destination In The Philippines "
"Do You Want To Explore This
Vibrant City Of Smiles?"

Bacolod City … a yet another top destination pick in the Philippines for your simple-to-elegant travel measures. This highly urbanized vibrant city is waiting for you to explore her.
You can fly to this city in 45 minutes from Metro Manila and 30 minutes across Cebu City. You have to add 20 minutes land travel because the new airport is now located in Silay City. Meanwhile…
It is also accessible by boat… 18 hours from Metro Manila and 45 minutes from Iloilo. Routes for Davao City and Cagayan de Oro City are also available.
Bacolod city is called "City of Smiles" because of its very friendly people. It is also called "Football City of the Philippines" because football is very popular there.
Panaad Park and Stadium during a football match…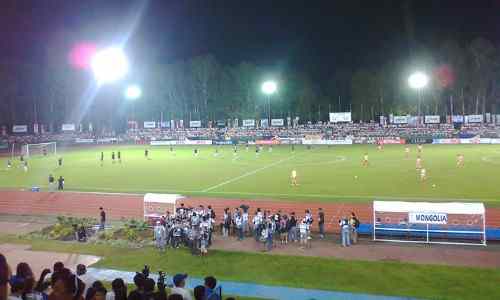 Have You Been To Bacolod City?
Share with the world your thoughts, experiences or story about Bacolod City. Just fill the form below.
What Other Visitors Have Said
Click below to see contributions from other visitors to this page...

Bob Wagner Not rated yet
I was on Negros from March to September at which time I was baptized into the Catholic Church by Fr. Fortich. I was a good friend of Edith and her brother …
The city's upbeat economy offers trade and investment opportunities. It's yours to decide. Meanwhile…
Its entertainment rivets with its popular annual MassKara Festival held on the third week of October. Many tourists, foreign and local, flocked to this festival.
The festival is highlighted by a street dance competition, where the participants wearing smiling colorful masks dance to the imposing music of drums and brass.
Here's a glimpse of the festival…
MassKara Festival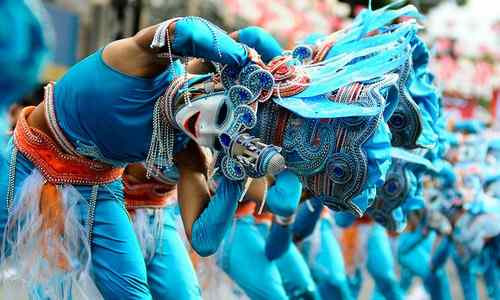 Source: bestphilippineattractions.com
Brief History

Bacolod evolved from a coastal settlement called San Sebastián de Magsung̃ay which Moro pirates used to raid. The villagers transferred to a hilly environment called 'bacolod' in the local dialect where they thought they would have better chances of repulsing future Moro raids. Over time…
It became a chartered city in 1938 with Alfredo Montelíbano, Sr. as the first Mayor.
In WWII, the Japanese occupied Bacolod. The Japanese Commander seized the house of Don Mariano Ramos, the first appointed Municipal President.
Here's that house…
Mariano Ramos House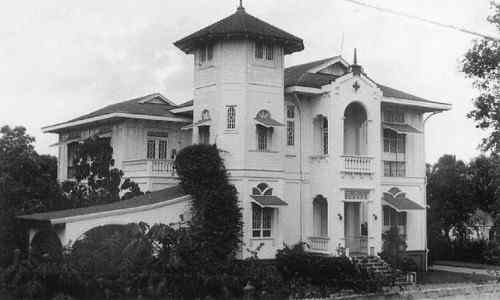 Source: Wikipedia
In 1980, the city became an independent highly urbanized city. It continues to nestle the provincial capitol of Negros Occidental to this day.
Here's a picture of the capitol…
Negros Occidental Provincial Capitol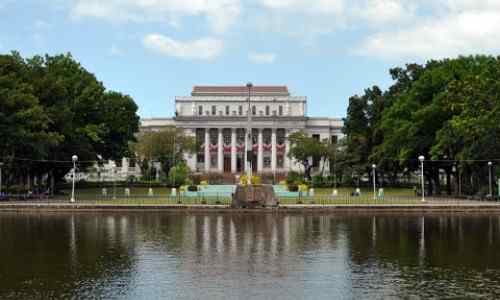 As of the latest, here's the City's new government center…
Bacolod City New Government Center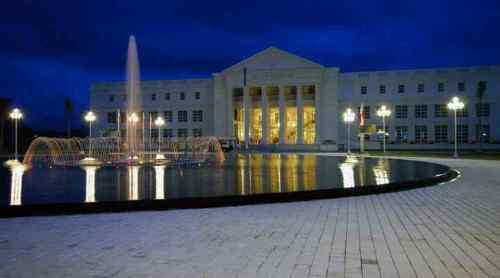 And this is the city's simple seal…
Official Seal of Bacolod City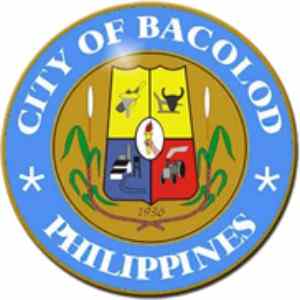 Bacolod City Map

Here are location materials you can use to your advantage…
Bacolod City Location Map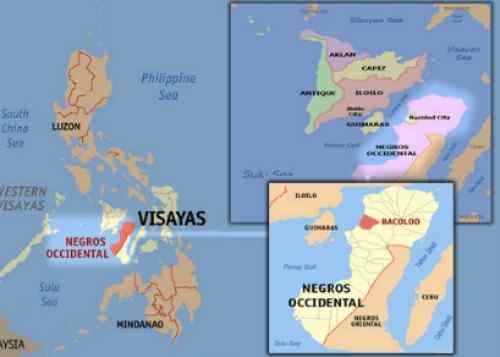 Source: exploreiloilo.com
Bacolod City District Map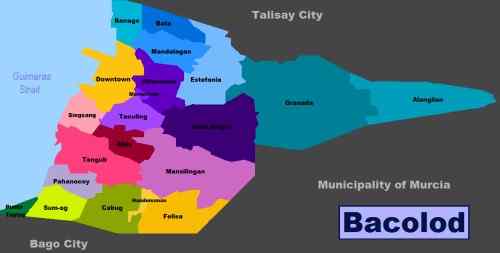 Source: Wikipedia
Tourism in Bacolod

As of yet, there are 24 hotels, 20 tourist inns, 15 pension houses and 4 resort enclaves in Bacolod. These accommodation entities packed 2,316 rooms all in all. Some budget hotels there charge as low as Php800/night.
Restaurants abound, the places of interest are as many as well.
Investment

The first sign of a good business destination is the size of the population. Negros Occidental is home to over 1 million people and because it nestles Bacolod…it's the sign. Thus, various business opportunities are available in Bacolod. You can choose your pick.
Living/Retiring

Bacolod is very safe for a home. It has extensive communication facilities. Transportation is good.
The city has two pronounced seasons…wet and dry seasons. Wet Season comes in May-January. The dry season occurs in February-April.
Food and other essential are very cheap. You can retire rich in Bacolod.
Nightlife

You can party in the city till 5 in the morning. The bars are plenty…it's kind of a little Manila. The whole atmosphere is just a little laid back.
You don't need to roam wide around. The action converges at Lacson Street, the city's main road. You can have your leisure and fun there filled to the roofs.
Your Bacolod Destination Guide Summary

To ensure achieving your simple-to-elegant travel measures, here is your summarized guide for your Bacolod City destination plan…
Fly in 55 minutes to Bacolod from Metro Manila with the country's top carriers… Philippine Airlines, Cebu Pacific and Air Philippines.
Move around with car rentals… L' Tours Rent A Car; Meca-J Tours or NYALA Rent-A-Car.
Car Rental in Bacolod…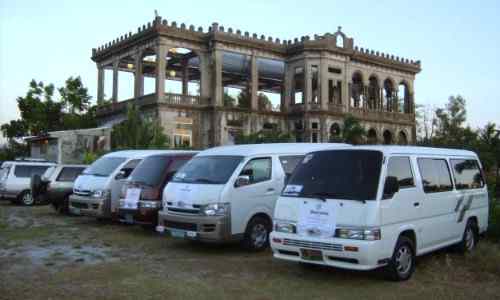 Sleep at… L'Fisher Hotel; Bacolod Convention Plaza Hotel; Goldenfield Garden Hotel; Casino Filipino Hotel or Sugarland Hotel.
Roof Deck of L'Fisher Hotel…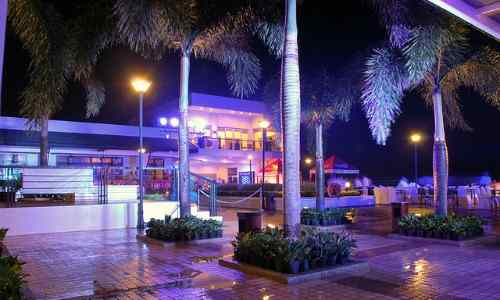 Source: flickr.com
Eat at… Mu Shu; Giacominos; Uncle Ben's; Bob's Restaurant; Aboy's Kamalig; Rolis; or 21st Bar and Restaurant.
Mu Shu Resto & Lounge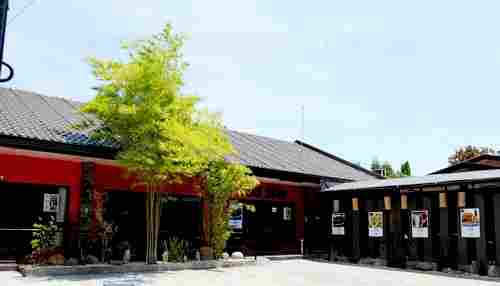 Image by: thefoodieschoice.com
Bob's Restaurant…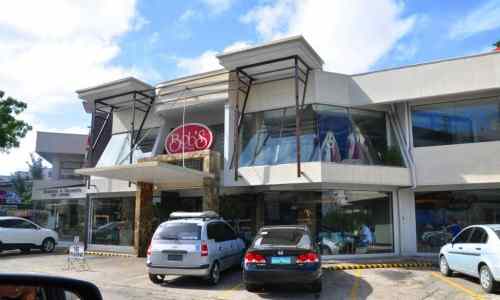 Recreate at… Palmas Del Mar; Sta. Fe Resort; Nature's Village; or Mambucal Resort.
Mambukal Mountain Resort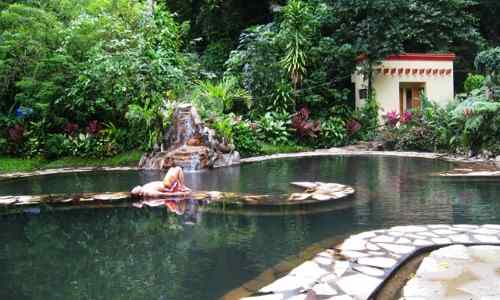 Source: curiouscorrine.com
Great outdoors of Bacolod…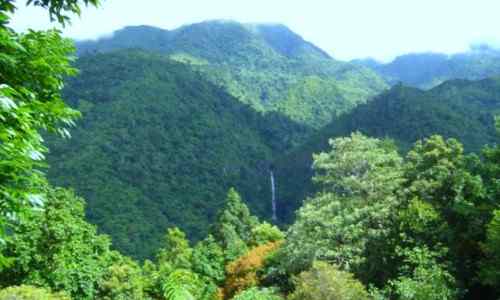 Source: http://bacolodcity.olx.com.ph
Beach hanging (sites are actually off the city, but proximate)… Bulubitoon Beach; Sipaway Beach; or Lakawon Beach.
Sipaway Beach Resort in Sipaway Island …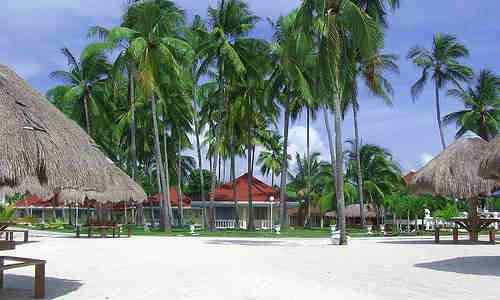 Source: http://travelsafephilippines.com

Shop at… Lopue's East; Lourdes C Centre; SM; or Robinson's Place.
Robinson's Place…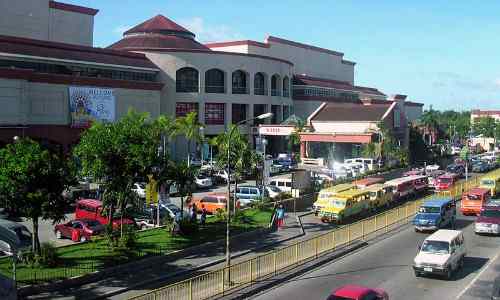 SM Mall…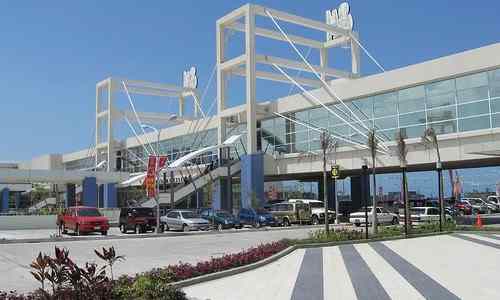 Source: forum.philboxing.com

Dance/eat/drink at… Volare Disco; Qourum Disco; Mu Shu Asian Restaurant and Lounge; or Pepe's Resto-Bar.
Pepe's Resto-Bar …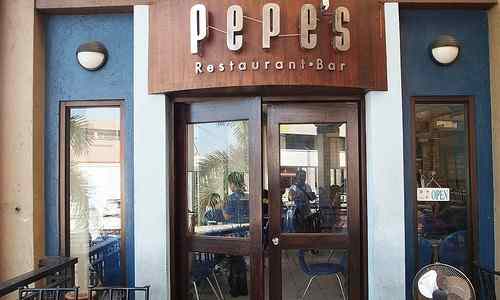 Source: foodiemanila.com

Play golf at… Marapara Golf & Country Club or Bacolod Golf & Country Club.
Marapara Golf Course …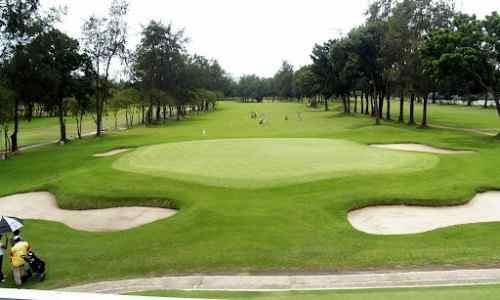 Study at (the city is a university town)… University of Saint La Salle; University of Negros Occidental Recoletos; West Negros College or Colegio De San Agustin.
Colegio De San Agustin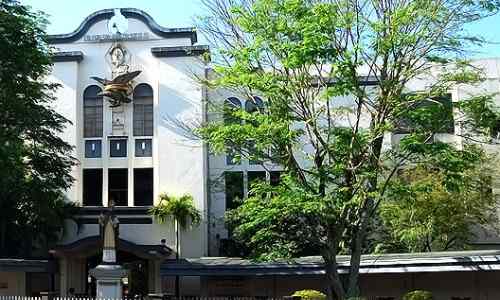 Pray at (if you're Catholic)… San Sebastian Cathedral; Queen of Peace church; Parish of the Saint Joseph the Worker.
San Sebastian Cathedral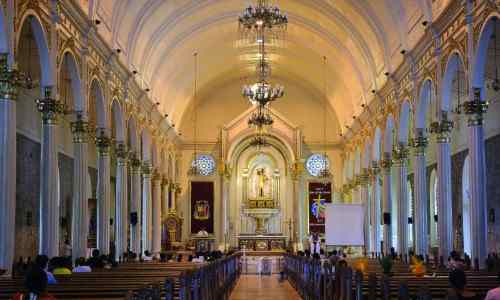 Source: paparazz0.com

Visit these museums… Negros Museum; Balay Negrense or VMC Tours.
Balay Negrense Museum…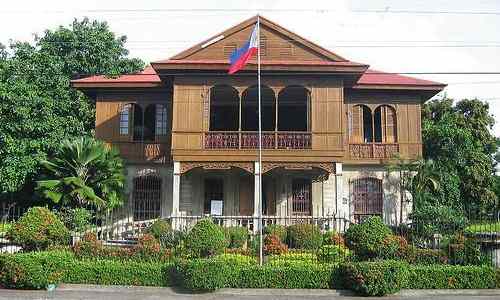 Buy native products at… The Showroom (Association of Negros Producers); Central Market; Quan; or El Ideal.
Showroom: Association of Negros Producers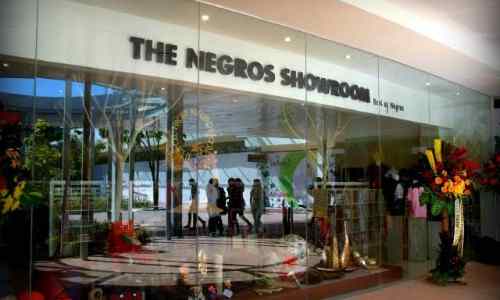 Retire/live in the city's finest real estates… house rentals at $200/month and many are lower than that.
House Rents at $232/month…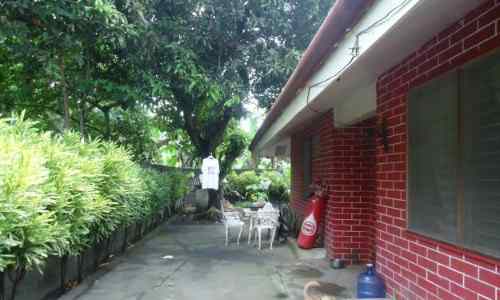 Source: http://bacolodcity.olx.com.ph

Bank with any of the city's 27 banks as of yet...
Union Bank in Bacolod…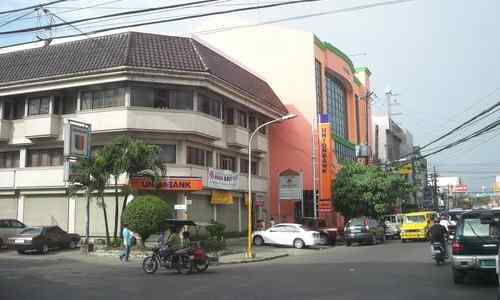 Source: panoramio.com

Invest in the city's best business bets with tax incentives…
Manufacture of agro-based products; manufacture of handicrafts; tourism-related businesses; property development; transshipment facilities; metal and foundry shops or high value crops.
In Closing

Bacolod City is another Philippine top destination pick you can take to satisfy your simple-to-elegant travel measures. It is waiting for you.
Want to SEE, LIVE or INVEST in the Philippines? Well… decide and come.
---
Like this game?
---
---
Back to top of this page

Return from Bacolod City page to Philippine Cities page

Return from Bacolod City page to Top Destination Choice The Philippines Home Page