" Filipino Dating Demands
Decency "

"Lasting Fidelity, Sincerity And
Loving Care Matter"

Filipino Dating qualifies your simple-to-elegant measures of decorum in courting Filipino women or Filipino girls. It bespeaks of how a Filipino values love and filial partnership deeply. A Filipino woman's fidelity marvels her man... a Filipino man's loving care awes his woman.
You can indeed treasure the Filipino's deep fidelity, sincerity, loving care and strong commitment to a relationship. Just like other nations, it demands decency and propriety.
Here are more insightful viewpoints about Filipino dating…


Some Expressions Of Filipino Dating
Filipino Women… The Glue Of Philippine Society
Filipino women are demure, loving, have strong sense of commitment, respectful, strong-willed, forward-looking and religious. By any standard, they are the sustaining bond of Philippine society.
As singles, Filipino women are reserved... in marriage and family, they're affectionate.
In the workplace, they're dutiful... in politics, they're resolute... in business, they're innovative.
And in faith and religion, they're devout.


Filipino Girls… Half The Hope Of The Nation
The subset of Filipino women that constitutes half of the hope of the Filipino nation (the other half are boys) is the group of Filipino girls.
In nation-building, being molded under the watchful eyes of their mothers, they provide the healthy perpetuating feminine stock of the Philippine population.
And in the community, they're the darling of the neighborhood. Their respect for the elders is beyond reproach. They tend to show more sense of responsibility than the boys.
Filipina Beauty… From Sunrise To Sunrise
I personally sublimate to 5 measures of the Filipina beauty, to wit…
Intelligence

Character

Charm

Charity

Religiosity
The Filipina beauty conducts her person along these measures each day of the year, from sunrise to sunrise.
Here's a top Filipina beauty, Miss Shamcey Supsup, 3rd runner-up 2011 Miss Universe Beauty Pageant wearing the Philippine national costume…
Miss Shamcey Supsup


Source: missosology.info
Filipina Brides… A Company Of Elects
Being brides is the special event in Filipino women's lives that formally usher them into marriage. The teachings of elderly women are inculcated in their minds that as brides they would swear to carry out subsequent roles as wives and mothers.

Those roles make them elect members of the human specie.
Filipina Wife… A Higher Elect
When the Filipino woman becomes a wife and eventually a mother, she commands and stabilizes her home. Through thick and thin, she stands by her husband.
She ensures her children will grow obedient and responsible not only in the home but all the more in the national echelon as bearers of hope for the nation. Such is a call of the higher elect.
Here she is hanging to air dry the clothes of her family…
Filipina Wife Doing Her Chore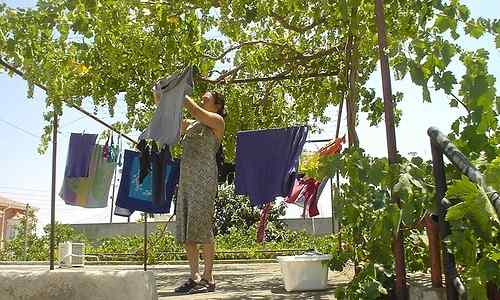 Source: freshcyprus.info | Google images
Filipino Men… They Know Their Roles
The Filipino men are good providers, assertive, loving, and religious, have strong sense of commitment, and carry their headship in the family with great propriety.
In addition, they carry their husbandship with care, they play support role in molding the children's character, and they ensure their homes are secure and safe.
Philippines Singles… Not All Remain So
Single male or female Filipinos decide under various reasons to marry or not in their lifetimes. Their decisions are contributory to the state of singleness in the country today.
Scores of twists in the lives of Filipino singles are open. There are Filipino singles who have children. Some have none at all and remain with their parents. Some remarry… and there are more stories of sort.

For now…
Wrap Up
Getting into a healthy relationship with a Filipino, like anywhere else entails natural attraction first before anything else. In Filipino dating, you can indeed treasure the Filipino's deep fidelity, sincerity, loving care and strong commitment to a relationship.
So what does Filipino dating profoundly reflect? Just like what obtains in other countries, it demands decency and propriety.
Want to know more about Filipino dating up close?

Decide, come and SEE, LIVE or INVEST in the Philippines.


---
Like this page?
---
---
Back to top

Return from Filipino Dating to Top Destination Choice The Philippineshome page