" Business Philippines

Could Earn "



"It's Profitable"

Business Philippines would surely fit your business measures to meet your simple-to-elegant measures for trade and investment. One solid bet is Philippine outsourcing which the DTI (Department of Trade and Industry) is strongly pushing.
The country welcomes foreign investors with warmth and open arms. Definitely, there are incentives and other advantages you can enjoy. One natural advantage is the country's sustained economic upturn as a Newly Industrialized Country.
There are negatives though, which are perhaps a matter of viewpoint and familiarity with the local temperament. Such are comparatively fewer… I honestly assert.
Investing in the land today would gain a businessman the kind of profitability that late comers may not enjoy. My personal recommendations… tourism, infrastructure or business process outsourcing (BPO).
More helpful insights next…


Some Aspects Of Business Philippines
General View
It is helpful for you to know some pros and cons of operating a successful business in the Philippines.
You can easily source locally your needs for quality manpower… they are plenty around. You can save 35-50% of your cost of operating business in-country compared to US business operations. For example…
You can enjoy a very affordable office space at $7-14 per square meter per month at Makati – the country's premier central business district. Elsewhere in the country, the cost even goes cheaper. Or…
You can avail of 40-100% foreign ownership in domestic corporations, retail trade enterprises and export businesses under certain preconditions. Or…
You can take advantage of the Special Investor Resident Visa (SIRV) and reside in-country for an indefinite period under prescribed investment and legal conditions. Then enjoy an upscale lifestyle around… as if the West is here.
Philippines Investment… The Best Time Is Now
You can take advantage of the favorable rising, liberalized business climate of the country today… really less expensive to maintain. The best time to take on business Philippines is now.The liberalization of the Philippine economy favors foreign investment. It's like getting there ahead, get the headway and earn good afterwards. Every aspect of the Philippine economy is a good area for investment. The choice is YOURS.
Philippines Currency… It's Appreciating
The Philippine peso, after lingering long in the nadir, is now slowly rising. If you decide to see, live in or undertake business Philippines, the 1:43 dollar-peso exchange rate would favor you.
Here's this bill I long wanted to have a lot, c/o business Philippines this page…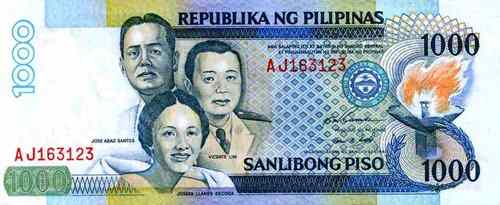 Source: Google Images
Call Center Philippines… The World Leader
You can enter the Philippine call center business today at a time when the playing field is wide, wide open. The Philippines has now emerged as a major location for call center outsourcing operations.
The Philippines has surpassed India as a destination in that regard. It is now the world's biggest call center operator with 350,000 call center agents and producing $6 billion in revenue in 2010.
The Philippines has now 788 call centers over 20 locations, mostly in key Philippine cities. Most are concentrated in Makati City and Ortigas Center in Pasig City. More are being planned.
Here's a glimpse of a Philippine call center, c/o business Philippines this page…
Source: Wikipedia
Outsourcing Philippines… More Bright Prospects Ahead
The Philippine IT-enabled business process outsourcing (BPO) industry has grown 46% annually since 2006. It is making for the country some $11-13 billion in revenue annually and employing 900,000 people. The leading BPO segment is call center operations where the country has now surpassed India.
You can join the race as it is calling for more players.
Other segments called Knowledge Process Outsourcing (KPO) covering legal and medical transcription, finance, logistics and accounting, and software development and animation are also rising vigorously. The Philippines is slowly eating up India's KPO stranglehold.
The Philippines is now among the world's top 10 BPO destinations. And Europe is eyeing the country lately.
SEO Philippines… Think Firm-Based
The business of search engine optimization exists in the Philippines. SEO service providers are either individuals or firms. The individuals are either Filipinos or foreigners. The firms are local or foreign-owned.My feeling is that SEO Philippines is best served by notable firms even if the cost is higher. It is, however, cheaper in the Philippines. So if you want the best for your in-country firm's internet presence, think of a SEO notable firm to provide you the services.

Philippine Business Directory… A Worthwhile Guide
Among the several business references you can use to qualify your choices about the Philippine business landscape is the Philippine business directory. There are several firms engaged in this type of business, mostly Filipino-owned. They offer both print and digital versions for your scanning eyes.

Philippine Classified Ads… It's Gone Digital Too
Philippine advertising firms adapt to trends of the time quick. From print, they've turned digital and now they run both media in parallel. Indeed, advertisers and marketers are quick to adapt to changes in the business setting.
Convergys Corporation… Among The Biggies In-Country
Among the global management consulting firms that operates a BPO outfit in the Philippines is the Ohio-based American firm Convergys Corporation. It has 15 BPO sites throughout the Philippines employing 25,000 Filipinos.They've decided to grab the BPO Philippines ticket much earlier in 2003. This time they're poised for expansion… obviously, their business Philippines is earning very good.
Flower Delivery Philippines… Flowers To Filipinos And The World
The cut flower business in the Philippines emerged during the 70s. Today, it is a strong, sunshine industry. Chances are it would sustain its viability and attractiveness for long. Quite a chance you can grab.
The local flower market is steadily growing... and yes, you can join the pack. There are rooms for improvement... BIG improvement. The Philippines even imports some of its requirement like chrysanthemum and orchids. Clearly, there is a need… an opportunity for any investor. If it's your choice, then you have it.
Here's a look of a flower farm in La Trinidad, Benguet, Philippines which produces various types of flowers for Filipinos and the world, c/o business Philippines this page…
Source: Google Images
Over the years, Filipino creativity continuously produces products aimed at the global market in spite of the odds. Slowly, some traditional Filipino products sold abroad as raw materials for different industries, are now being processed in-country and exported as finished products.
The Filipino, after having learned the concept of value-adding in production and obtaining much needed capital, now turns out finished products to fiercely seek for acceptance in the global market.
You can make good business with Filipino products, I suppose.
For now…
Wrap Up
Doing business in the Philippines can meet your simple-to-elegant measures for trade and investment. Your chances are plenty. It all depends on your circumstances and personal choice. And maintaining your business in-country is inexpensive.
Invest in the land today, and you would certainly gain the profitability that late comers may find hard to achieve. You may just find the Philippines as a top destination choice for one or several of your businesses. So…
Want to do business in the Philippines?

Decide, come and SEE, LIVE or INVEST in the Philippines.


---
Like this page?
---
---

Back to top

Return from Business Philippines to Top Destination Choice The Philippines home page