" Filipino Food Satiates "
"Try Real Inexpensive, High-Gratifying Filipino Food Creations For Your
Discerning Taste"

Excellent Filipino Food can match your simple-to-elegant dining wants any time. It has everything you can imagine that meets your requirement… international, local or just any kind. YES, food creations in the Philippines pervade. Because…
You certainly would like to EAT the food that fulfills best your wants at the most reasonable cost. The Philippines will give you that. And taste?
It is easily good to best by any measure. It gives you a wide list of choices over a combination of local, Eastern and Western cooking.
You can explore more about…


What Is Your Favorite Filipino Food?
Share your stories here! Just fill the form below.


Some Hallmarks Of Filipino Food

Knowledge on preparing Filipino cuisine can ease your kitchen effort. The utmost you gain though is seeing the face of you partner brightened after eating the Filipino cuisine you prepared.
If you take on the Filipino cuisine in restaurants, you get reasonable cost automatic. But your greatest gain is the same satisfaction registering on that brightened face of your partner.
Adobo… Exotic Filipino Dining Signature
In the beginning there was "adobo"… then Filipino cooking evolved. This peculiar Philippine cuisine gives you utmost delight. Easy to prepare, it cuts your time to set up a meal.
Look at this sample pork adobo...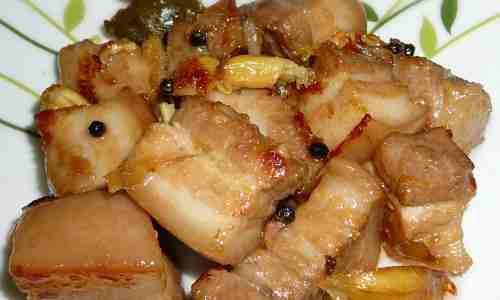 Lechon… Simply The Best
Eating "lechon" gains you no cut in cooking time, but unique, hard to measure delight. Lechon is a passionately, 3-hour roasted whole carcass of a young pig. The 45-kilogrammer live pig is the best source.
You should never miss eating lechon… or your Philippine vacation becomes mediocre.

Here's a just roasted lechon…
Source: Google Images

Then it is chopped into mouthwatering cuts…
Source: Google Images
Chinese-taught and –inspired, this delicacy is great any time of the day. Gives you an easy foodstuff to pick on the table or outdoors.
Siopao… Always Delightful
Also Chinese-taught and –inspired, a delicacy you can take anywhere and not worry of any spill. Gives you the easiest meal you can take outdoors. Siopao is bread with fillings… steamed to cook. The usual types are "guisado" and "bola-bola". I prefer the "bola-bola".
Here's a twosome of siopao (Image by: carmona.olx.ph)....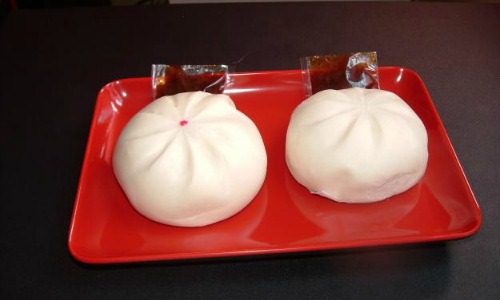 Oxtail… A Peculiar Delight
It's not only the French or Slavs who have it… Filipinos too. The soup of the Pinoy version makes you skip other stuff on the table and you still get your fill… and your belly bursts.
This is what I mean, a pick of Filipino oxtail soup (Image by: articlesku.com)...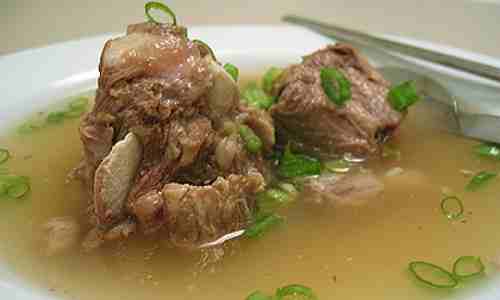 Pansit… Adds Life
Also Chinese-taught and –inspired, the "pancit", an Oriental noodle-based delicacy is probably the cheapest, most acceptable stuff you can prepare for a battalion of friends. In pansit, you can create countless variants you can imagine.
There's an undying folklore among Filipinos which says… eat pancit to lengthen your life. So, we Filipinos eat pancit because it's a common fare on the table… and not really folklore-driven.
A plate of special pansit canton can really make your fill...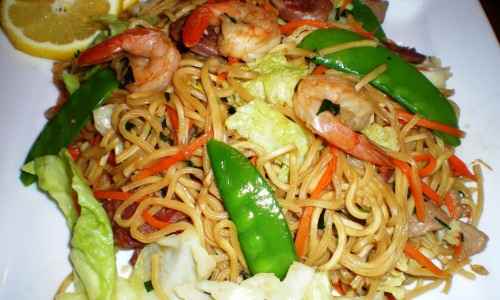 Using Filipino recipe lessen your learning curve if you try Filipino cooking. The cheap prices of Philippine foodstuffs are your additional gains.
The outshining Filipino recipes captivating the world increasingly in recent times are the "adobo" and "lechon".

For now…
The Wrap Up

A wide variety and taste of pervading Filipino food creations can meet your simple-to-elegant eating wants. Your EATING of such food gives you the most fulfillments you expect… and, very cheaply.
Ready for an encounter with Filipino food?
First…

Decide, come and SEE, LIVE or INVEST in the Philippines.


---
Like This Page?
---
---
Back to top

Return from Filipino Food to Top Destination Choice The Philippines home page