" Philippine Newspapers
Are Shifting "
"Philippine Newspapers Are Going Digital"
Philippine newspapers offer reliable foreign and Filipino news. Today, they are re-examining their driving forces to deal with technology. Joining them are Philippine TV and Philippine radio.
The scenario is in a flux.
Filipinos are changing the way they get or receive information. The Internet arrived… the playing field changed. Then…
Revenues in print classified advertisement and print copy suffered drops, and readership plummeted. Soon enough…
Newspaper companies saw the writings on the wall… ONLINE. It's time to adapt, or face extinction.
More insights ahead…


A Bit Of History
The country's newspaper industry started over 150 years ago. The first Filipino printer was Tomas Pinpin of Bataan.
Here's the building in Pila, Laguna which housed the printing press Tomas Pinpin supervised. (Image by: Wikipedia)

The first daily newspaper was the 'La Esperanza' published in 1846. (Image by: Wikipedia)

The first provincial newspaper was 'El Eco de Vigan' issued in 1884.
The first English newspaper was the Manila Times published in 1898, view of headquarters here. (Image by: Wikipedia)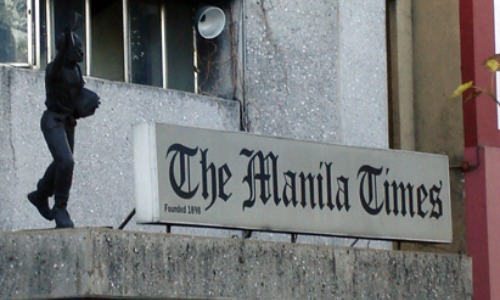 The Bulletin came next in 1900. Here's the Manila Bulletin Building at Intramuros, Manila. (Image by: Wikipedia)

And the Manila Bulletin Newsroom…


Philippine Newspapers Today
The Philippines has 387 local and national newspapers as of 2012. Most have online versions.
The most read are the Pilipino prints followed by English. Trailing thinly are Chinese and Spanish versions.
Broadsheets are mostly English and cost P15-25 ($0.27-0.45) per issue. Broadsheets cater to the middle and upper classes.



In contrast…
Daily tabloids are mostly Pilipino. They retail at P6-7 ($0.11-0.13) per copy and are popular with the masses.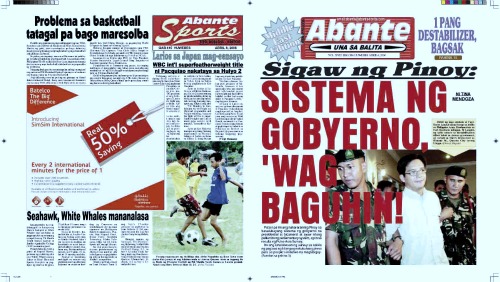 The industry has been viable over the years. Today, however, there are big issues and concerns.

The Challenges Philippine Print Media
There are issues and concerns confronting the print media industry. Here are some…
Print copy revenues dwindled. Market values of newspaper firms dropped as well.
The print classified advertising bonanza is gone. Lots of internet advertising platforms have been irreversibly snatching the revenues.
Take for instance Sulit.com.ph. It's a website for FREE classified ads. It has 450,000 daily unique visitors, indicating it has already owned a niche.
Here's RJ David, the Founder… (Image by: infochat.com.ph)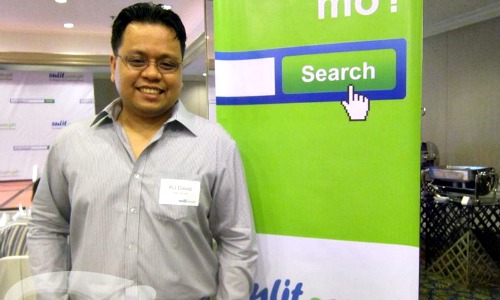 There's another one… Ayos Dito.ph, a Sulit competitor. (Image by: yugatech.com)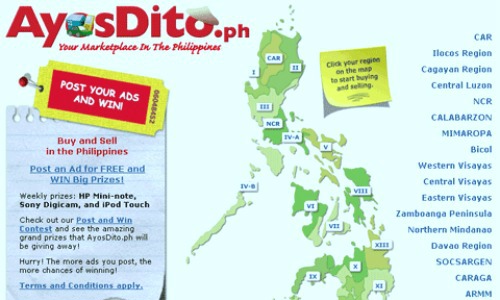 Let's proceed…
The improving Philippine economy enables more Filipinos to buy home computers… (Image by: worldoffemale.com)

The next step… the Internet. The effect… more headache for the newspapers.
Coincidentally…
In advanced countries with strong internet markets like the US and UK, newspapers are dying. The Philippine situation is in stark resemblance.
Internet inroads in Internet cafes are going very fast. (Image by: Sulit.com.ph)

More Pinoys shun from newspapers, much less buy. More Filipinos own cellphones from which they obtain mobile news.
Pinoys read the headlines in sidewalk newsstands… BUT they don't buy. (Image by: english.sina.com)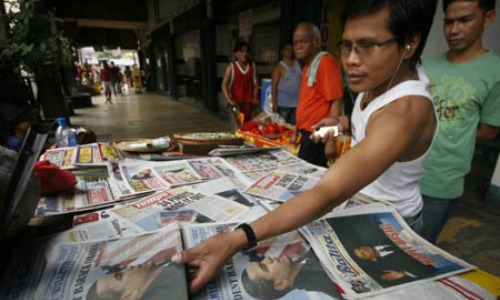 So what's ahead?

The Future Of Filipino Newspapers
Newspapers in the Philippines are nearing their breaking point. When? The clue is the case of US newspapers.
The American newspaper industry peaked in 2000. By 2009, it suffered irreversible revenue drops in advertising and print. By comparison…
The local industry may have peaked in 2009 or currently plateauing. So inside 10 years, it could likely reach breaking point. Fortunately…
Filipino publishers are quick to adapt. They've gone digital already, running parallel their print medium. However…
They can't recover the advertising bonanza they used to enjoy. Many digital platforms plug the market.

In Closing
Philippine newspapers remain good sources of domestic and international news... though may not for long.
What is contentious is the digital world. More Filipinos obtain news and information from digital media, rather than print or radio.
Publishers must turn digital. Instead of print... E-News.

If there's something you want to clarify about Philippine Newspapers, please Contact Me.


Convinced? Come and SEE, LIVE or INVEST in the Philippines.
---
Like this page?


---
---
Return from Philippine Newspapers page to Philippine News page
Return from Philippine Newspapers page to Top Destination Choice The Philippines Home Page