" Mindanao Philippines' Treasurables "
"A Top Philippine Destination Choice"
This is Page 2 of Mindanao Philippines.
Yes, the destination offers affordable, simple-to-elegant options to your tours, home or business needs. Standing up with Luzon and the Visayas, it's your one great choice.
Let's proceed…
Nightlife in Mindanao Philippines
There are numerous outlets to swing your night out in Mindanao Philippines.
So far, the best are…
Antonio's Bar 'n Grill - Davao City
Antonio's serves a wide variety of Filipino dishes in a clean western setting.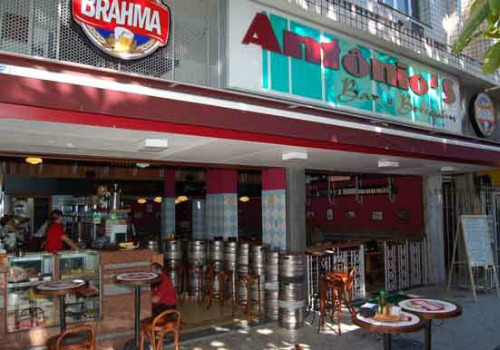 Share Your Thoughts About Mindanao Philippines
Do you have something to tell about Mindanao Philippines? Share it here. Just fill the form below.

Pulse Live Music Venue – Cagayan de Oro City
Pulse offers nightly entertainment and dancing with local and international bands.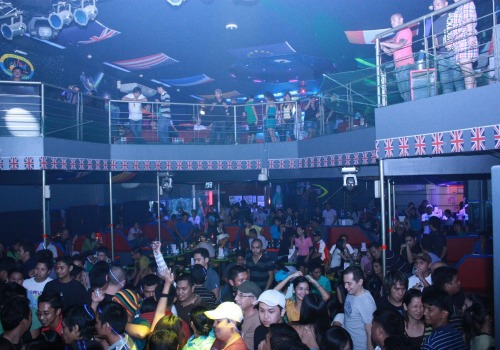 Dominic's Sports Bar at Hotel Tavern - Surigao City
Dominic's offers a wide range of liquors and wine with Cable TV and live bands. (mage by: skyscrapercity.com)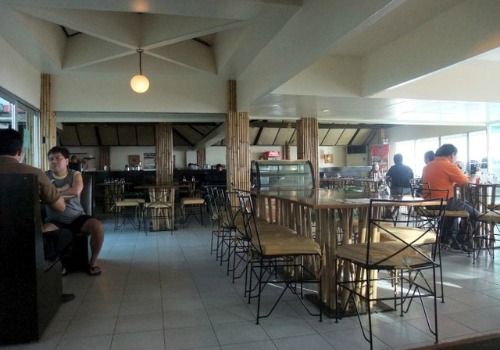 Kyla's Bistro – Iligan City
Kyla's Bistro offers a mix of Filipino and western food in a clean and modern atmosphere.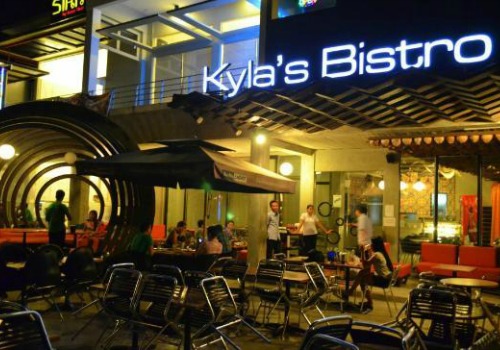 Shopping in Mindanao Philippines
Malls are common in Mindanao. It's the alternative stores, however, that enthralls. Here are the top picks…
Aldevinco Shopping Center, Davao City
Aldevinco Shopping Center offers affordable souvenirs showcasing Mindanao's culture and heritage.  (Image by: visit-davao.blogspot.com)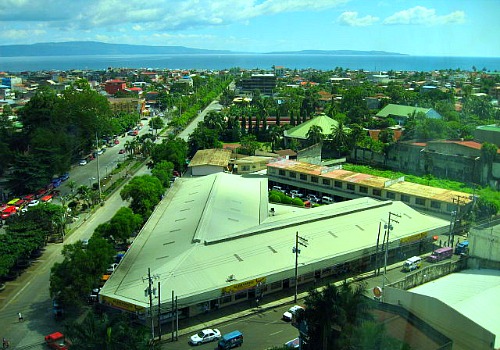 Canelar Barter Trade, Zamboanga City
You have lots of imported choices at the Canelar Barter Trade.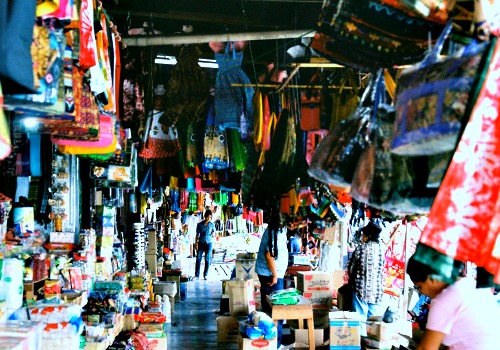 Festivals 
Here are random shots of Mindanao's top festivals…
Kaamulan Festival Since 1974, Bukidnon
Kaamulan Festival started the mardi gras signature of Mindanao festivals. It thrills you with cultural, adventure and athletic events on the second half of February to March 10. Here's one scene…
Rodeo at the Kaamulan Festival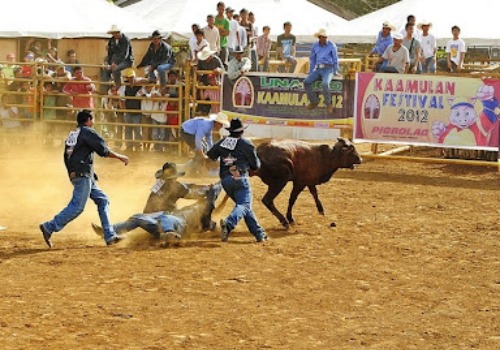 Image by: bukidnonphotojournal.blogspot.com>
Kagay-an Festival Since 1979, Cagayan de Oro City
Kagay-an Festival delights you with creativity-filled festivity every 28 August. (Image by: lapasan-myblognoel145.blogspot.com)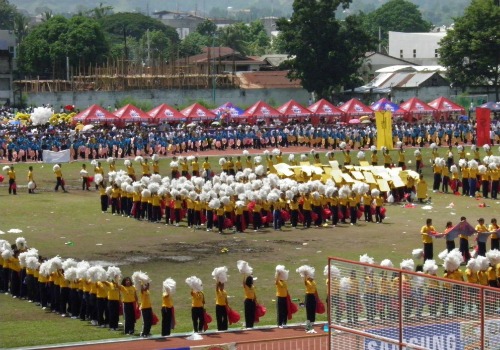 Kadayawan Festival Since 1985, Davao City
The Kadayawan Festival, Mindanao's biggest, thrills you every 3rd week of August to celebrate good harvest. Here's one scene…
Beautiful Young Participants at the Kadayawan Festival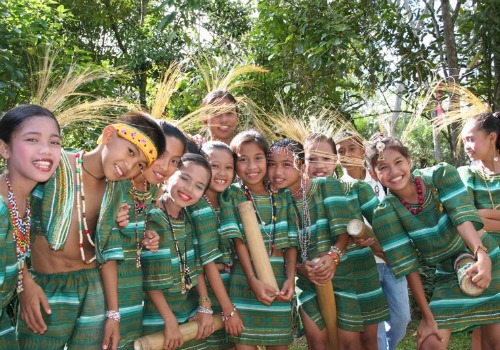 Image by: bukidnonphotojournal.blogspot.com>
Munato Festival Since 1992, Sarangani
Munato Festival exhilarates everyone 4th week of November commemorating the "First people" of Sarangani province. Here's a charmer of the festival…
A Particiting Beauty at the Munato Festival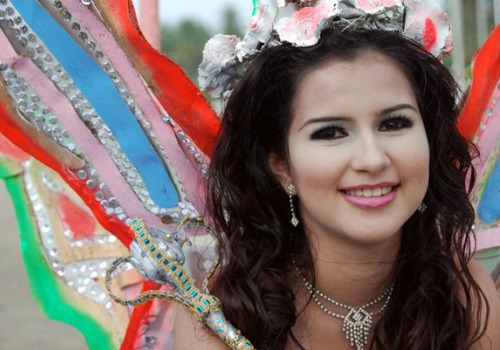 Image by: saranganiprovince.multiply.com>
Tuna Festival Since 1998, General Santos City
You'll see lots of tuna preparations during this fun-filled Tuna Festival. The street dance will surely enthrall you.
A Young Charming Tuna Festival Street Dancer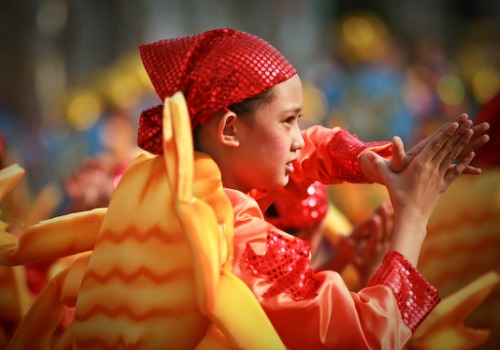 Image by: leonardpe.com >

Accommodation 
You will always find a good-to-best place to stay in Mindanao Philippines at $7.00-51.21 price range.  
Here are some of the top choices…
Camiguin Action Geckos Dive & Adventure Resort, Camiguin Province - $15
Geckos' offers cabins near the beach. Your rooms are simple, but spacious, and restaurant food is very good. (Image by: tripadvisor.com)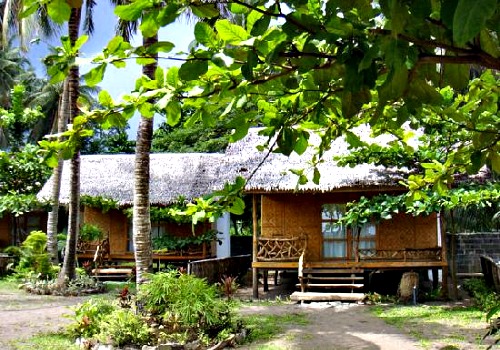 The 247-Room Marco Polo Davao, Davao City - $88-$124
Marco Polo Davao gives a 5-star hotel treatment.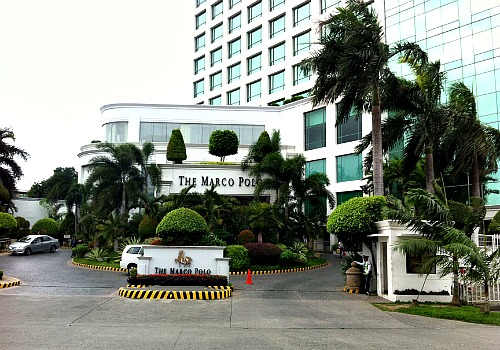 Kawayan Siargao Resort, Siargao Island - $82
Kawayan offers modern cottages with native motif amidst a luxurious and peaceful tropical garden.
The Kawayan Siargao Resort Cottage Interior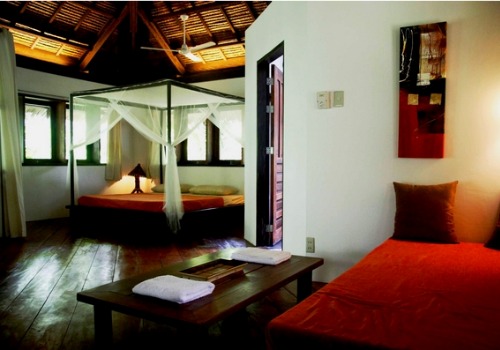 Hotel Tavern, Surigao City - $60
You'll have your best budget hotel option in Hotel Tavern around Surigao.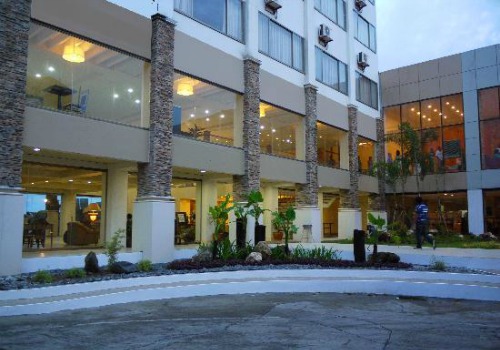 N Hotel, Cagayan de Oro City - $85-113
You'll have your best budget hotel option in N Hotel around Cagayan de Oro.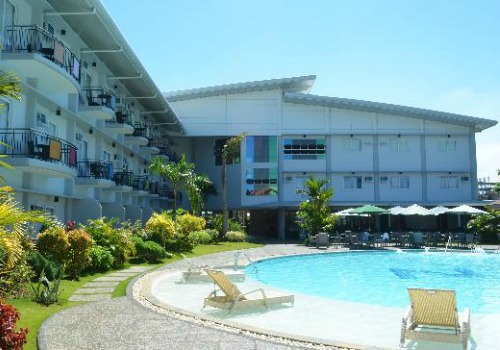 East Asia Royal Hotel,  General Santos City - $69
You'll have your best budget hotel option in East Asia Royal Hotel around General Santos City.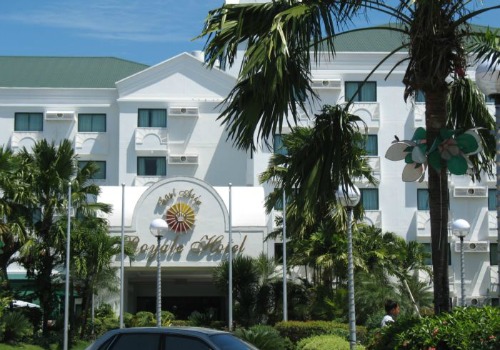 Restaurants in Mindanao Philippines
Mindanao Philippines is awash with simple-to-finest restaurants. At $5-12 (P200-500), you can have your fill.  
The top picks are…
De Bonte Koe, Davao City
De Bonte Koe offers a great change from Filipino food with great food and service.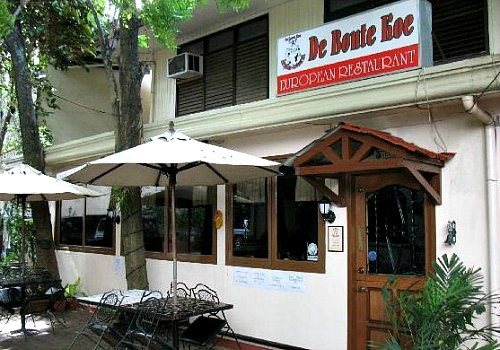 La Vetta Restaurant and Wine Bar, Limketkai Mall, Cagayan de Oro City
La Vetta offers simple-to-elegant cuisine and wine. (Image by: aroundtheworldwithalex.com)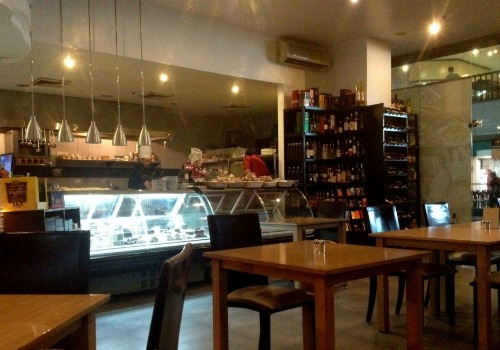 J & A Fishpen, Camiguin
J & A offers great freshly caught seafood around. (Image by:  phelpy.com)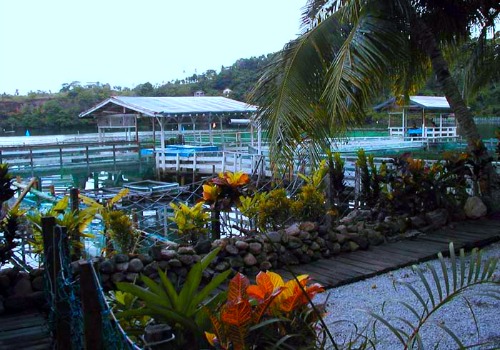 Ronaldo RestoBar, Siargao Island
Ronaldo offers cheap, easy to like BBQ. (Image by:  laaganadventures.com)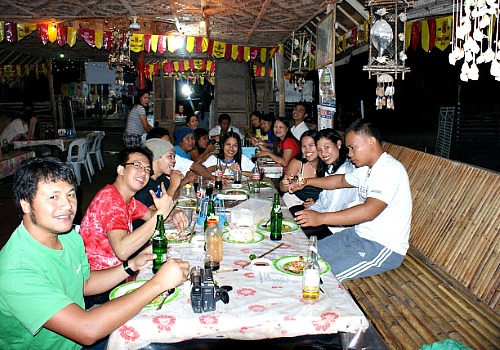 Sarangani Highlands Garden and Restaurant, General Santos City
Sarangani Highlands offers good, cheap food with scintillating sceneries around.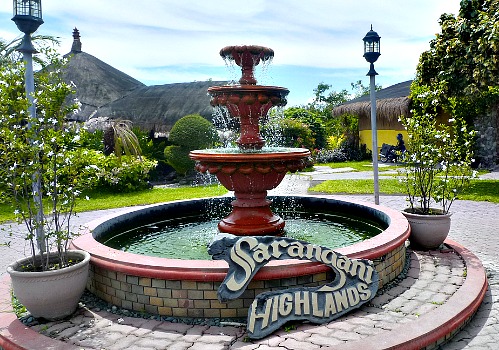 Delicacies of Mindanao Philippines
Mindanao boasts of a lot of delicacies. Here are two of the top ones...

Suman of Clarin, Misamis Occidental
Suman of Clarin makes your taste buds ask for more. It's a rice cake made of glutinous rice, coconut milk and sugar steamed in banana leaves.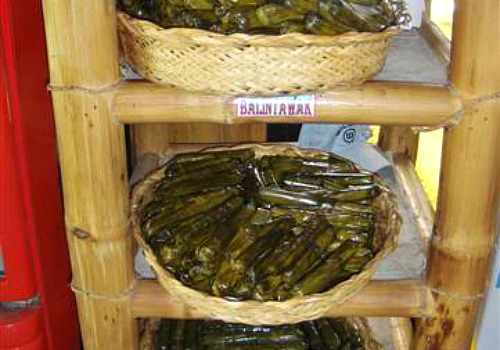 'Binaki' of Bukidnon
Binaki satisfies your exotic Filipino cuisine search. It's steamed cake made of grated young corn, powdered milk, baking powder, sugar, and water. It's wrapped with young corn skin.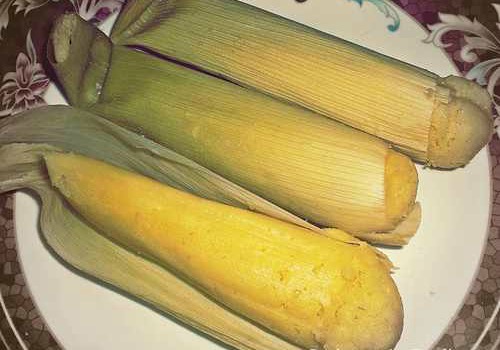 'Sayongsong' of Surigao
Wrapped with banana leaf, Sayongsong meets your search for another exotic Filipino delicacy. It's made of glutinous rice, coconut milk, sugar and milk.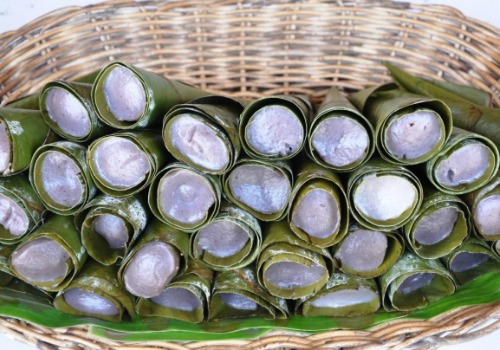 Children of Mindanao Philippines
The children of Mindanao kindle your sense of humanity and make you a much better person.
Here are some of their expressions… 
Kids of Surigao City
Young Girls Near the Day-asan Mangroves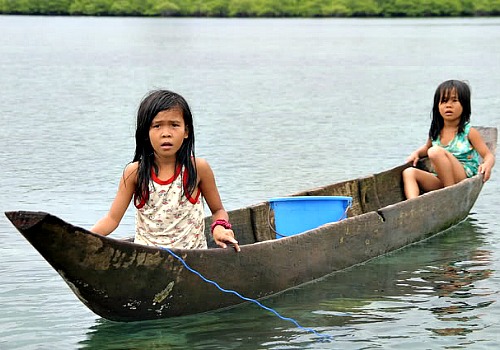 They're anxiously hoping their father (not shown) could catch fish with his spear gun as he dive underwater.
Kids of Sarangani Province
Sarangani Kids Swimming in Nalus Falls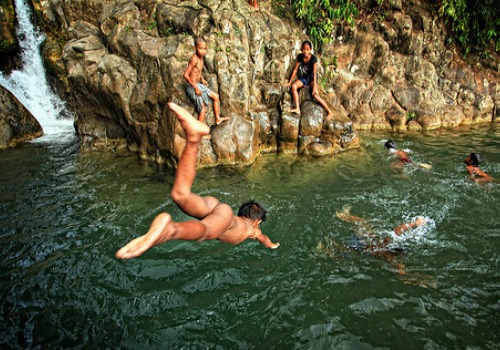 The frolics go on even if some of them do not wear shorts/brief. Image by: omar s. gallinero
Kids of General Santos City  
Kids in General Santos City Doing a Pep Choreography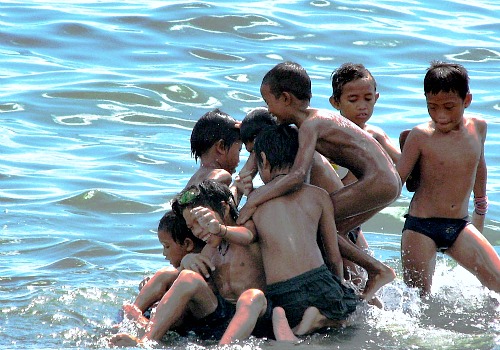 Cheerers in the making. Image by: hands-eyes.blogspot.com
Kids of Samal Island
Exuberant Kids of Samal Island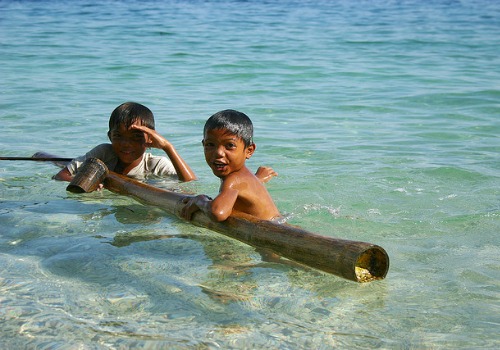 A short bamboo pole is their resting platform when going farther out to sea. Prized swimmers in the making if nurtured. (Image by; flickr.com)
Kids of Bukidnon
You will surely love watching Children Playing Football in Camp Phillips, Bukidnon. The Ceballos brothers, sons of Ilongo parents, started football in Camp Phillips circa 60's. (Image by: mindanews.com)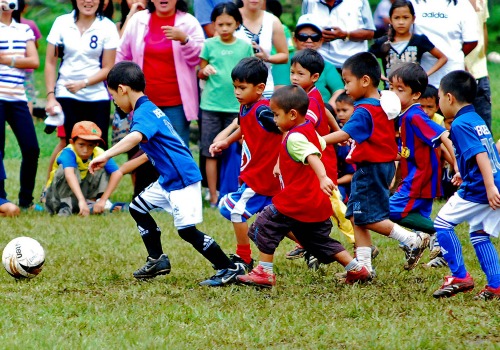 Kids of Misamis Oriental
You will be amused seeing children in Misamis Oriental acting as Cockmaster Kids checking a fighting cock's readiness for Sunday. (Image by; mindanews.com)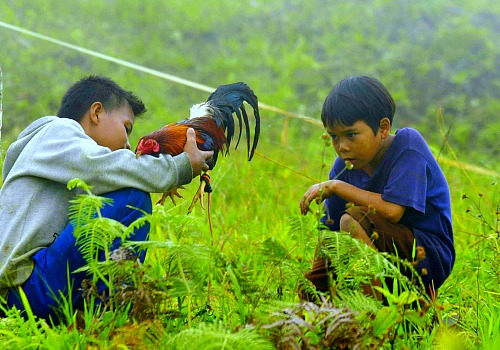 Kids of Tawi-Tawi
You will have a rare amusement viewing Badjao Kids in the Chinese pier of Bongao, Tawi-Tawi diving after those coins pitched by passengers of a moored ship.
These kids (some as young as 4 years old) are known for their very agile, long lung-busting diving skills. (Image by: dannyescabarte.typepad.com)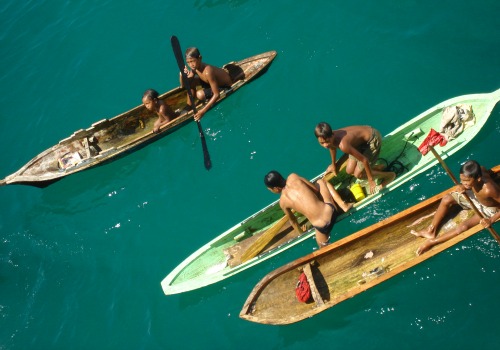 Kids of Siargao Island
And you will be amazed watching the tree-climbing skills of Siargao Kids. (Image by: flickr.com)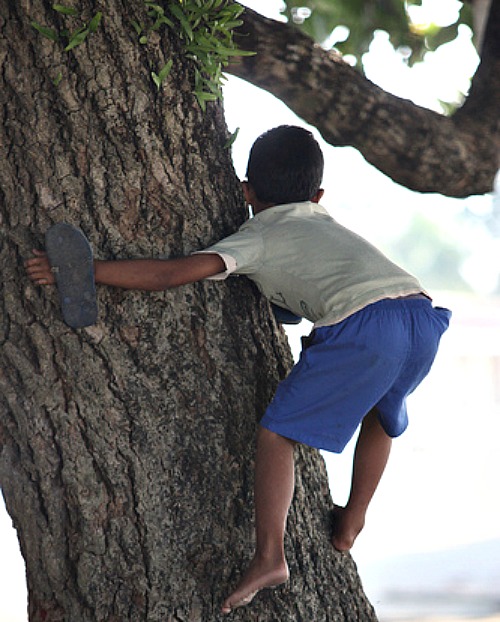 Economic Beat of Mindanao Philippines
The current economic realities of Mindanao will help you decide to live, retire or invest there.
Here are the strategic musts…
Ending the 43-Year Muslim Insurgency… The Prelude To Development
An insurgency-free Mindanao will bring tremendous benefits to both Filipinos and foreigners as well. Here are faces of jubilant Filipino Muslims applauding a peace initiative…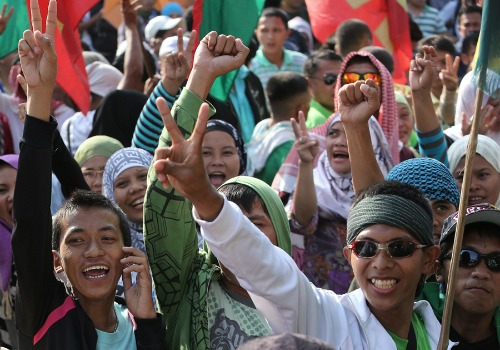 Trains for Mindanao… The Long Wait Must End
Trains would lighten and accentuate travelers' circumstances.
Modern Trains for Mindanao… Decades Old Dream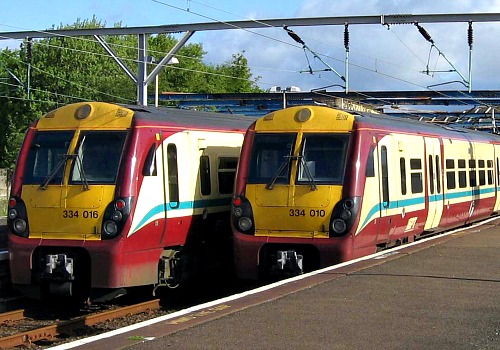 Water Management Infrastructure… Mindanao's Woes If Unheeded
Additional water reservoirs for Mindanao would make the lives of the locals and visitors truly inspiring and fulfilling.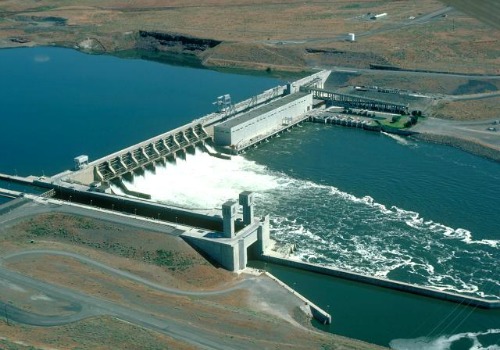 Nuclear Energy… Matches Mindanao's Power Anguish
Nuclear power plants avail everyone else in Mindanao, foreigners and locals alike, very cheap rates and reliable power supply.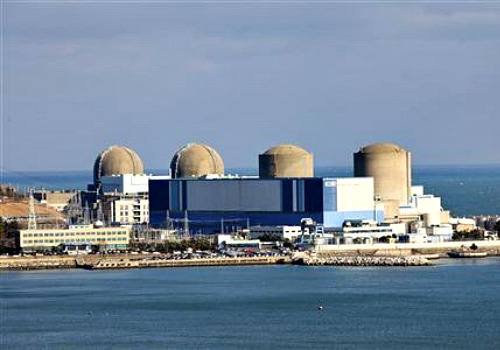 Live or

Invest in Mindanao Philippines
Here are your worthwhile considerations for living or investing in Mindanao Philippines…
Education
Mindanao can meet your or your family's academic needs with sure adequacy.
Healthcare
Mindanao can cope effectively your medical/dental needs up to the tertiary level.
Domicile
You can effectively live/retire singly in Mindanao at $600-800/month… like rich at $2,000, and like kings at $3,000.
The People
Friendly and religious Mindanaoans inspire others.
Banks
Mindanao's banking profile is more than enough for anybody's needs.
Communications
The province' communications infrastructure is more than adequate.
Labor Force       
English-speaking, highly trainable, artistic, and creative in any job.
Cost of Doing in Business 
Doing business in Mindanao is 35-40% cheaper than California's. It offers tax incentives.



Wrap Up
Mindanao Philippines is a see-live-invest destination that meets your tours, residence and/or business needs. It is an agro-fishery-mining-industrial powerhouse that fits your measures.
If you want to clarify something, please Contact Me.
Convinced? Come and SEE, LIVE or INVEST in The Philippines.
---
Share Your Thoughts About Mindanao Philippines
Do you have something to tell about Mindanao Philippines? Share it here. Just fill the form below.

---
Like This Page?  
---
---
Return from Mindanao Philippines 2 to page 1 of Mindanao Philippines