" Filipino Recipe Beats
Your Cravings "
"Fine Sampling Of Filipino Cookery"


A Filipino Recipe can match your cravings for Pinoy food. Greats such as lechon, sinigang, adobo and others can fill your eating with great liking.
Each recipe can address your simple-to-elegant food measures. Each has an exciting good to offer to you.
There are thousands of such recipes out there. You don't need to try them all. Just know a few by description and take on them later. So…
I'll share here 6 recipes I deem as classics.
Lechon (Roasted Pig)
This Filipino recipe lets you feel very special once you take it. It lends you topmost gratification as it tastes like no other.
To me nothing else in the world can top it.
Ingredients…
1 whole native pig (live weight 18–20 kilos)
Salt and black pepper
Soy sauce
1 liter of Sprite
10 bundles lemon grass (tanglad)
1/4 cup star anise
6 pcs of laurel or bay leaves (cut into small parts)
5 cups of crushed garlic
2 kilos green onion leaves
8 pcs of halved saba bananas.
Instructions…
1. After scalding and removing the innards of the pig, fine shave the skin.
2. Rinse and clear the stomach of any blood.
3. Rub the insides and exterior with salt and pepper.
4. Rub the insides with little soy sauce.
5. Stuff the belly with saba bananas, anise, green onion leaves, crushed garlic and laurel leaves.
6. Place the lemon grass in the center of the stomach, and stitched the belly, ensure no ingredients slip out.
7. Skewer the pig with a mid-size bamboo and split roast over hot charcoal in a pit. Place the charcoal on the sides of the pit.
8. Glaze the roast from time to time with sprite using a sponge to make the skin crispier.
9. Roast about 3 hours until the meat is tender.
It's a long wait watching the lechon on the grind...

And you can hardly wait to take the irresistible chopped lechon into your mouth…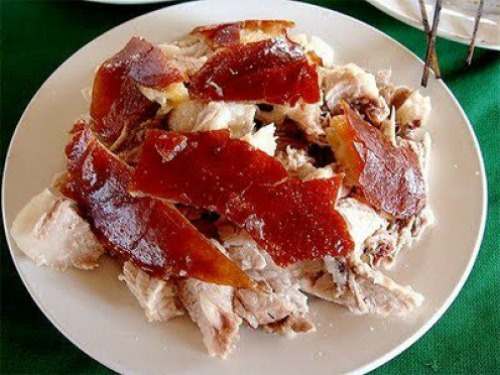 Humba (Braised Pork Belly)
This Filipino recipe gives you exceptional delight because it's cooked longer than its rival, the adobo, to bring out more flavor and savory smell.
Ingredients…
1 kilo pork belly
1 onion, diced
5 cloves garlic, minced
1 teaspoon rock salt
1 tbsp soy sauce
1 teaspoon whole peppercorn
2 pieces dried bay leaves
1 cup rice water (or pineapple juice)
2 tbsp vinegar (1/4 cup)
2 tbsp salted black beans (exclude the sauce)
0.5 cup dried banana blossoms
Procedures…
1. Slow boil pork with little water in a pot until water dries up and pork exude oil until it browns.
2. Add onions, then garlic, mix, wait onions to soften.
3. Add soy sauce, peppercorn, bay leaves and mix.
4. Add rice water, let boil.
5. Simmer until pork tenders (add water as needed)
6. Add vinegar, re-boil, simmer 3 minutes.
7. Add salted black beans, simmer 5 minutes.
8. Add dried banana blossoms, simmer 5-8 minutes
9. Transfer to serving plate, serve.
Sumptuous Humba




Crispy Pata
This Filipino recipe gives you soaring delight as it brings out more flavor, savory smell and extra crispy pork rind.
Ingredients…
4 pig forelegs
2 tablespoons salt
1/4 cup peppercorns
1 onion, chopped
2 bay leaves
1/4 tsp. MSG
Oil for deep frying
Directions…
1. Slow boil pig forelegs in a large pan (completely submerged in water) with salt, bay leaves, peppercorn, onion and MSG until meat is tender.
2. Lift, drain and dry.
3. Deep fry until golden brown, serve.
Wow, I can't wait for my smothering crispy pata…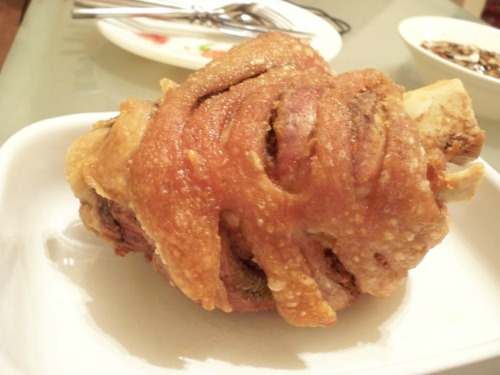 Sinigang Beef Spareribs

This Filipino recipe lends you a healthy, alkaline, more hearty, sumptuous and meal. Its lengthy boiling gives you the best bone flavor extract.
Ingredients...
1 kilo beef spareribs, size-cut
2 medium size onion, quartered
2 medium size tomato, quartered
4 gabi (taro), cubed
1 bundle Chinese cabbage
2 cups Chinese peas
1 sachet Sinigang Mix
4 green pepper long
1 tbsp salt
MSG
Procedures…
1. Slow boil beef spareribs in casserole with salt for 1-1.5 hours or until tender.
2. Add taro, let it tender.
3. Add onion, tomato, green pepper and sinigang mix, simmer 3-5 minutes.
4. Season with MSG.
5. Add chicharo beans, simmer 2-3 minutes.
6. Add Chinese pechay, simmer 2-3 minutes.
For lunch or dinner, I'll have real fine moments with hearty beef spareribs sinigang.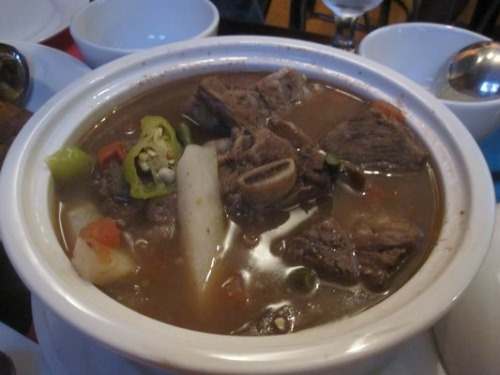 Sinigang Yellow Fin Tuna



This very delicious, expensive dish refreshes you if you're feeling low.
Ingredients…
1 Kg. yellow fin tuna (sliced)
1 sachet tamarind mix
3 pcs. green pepper long
1 pc. onion
100 grams ginger
1 bundle kangkong
MSG to taste
Patis to taste
7 cups water
4 gabi (taro), cubed
Procedures…
1. Boil sliced tuna, onion, ginger, tomato and water
on a casserole.
2. Add kangkong, tamarind mix.
3. Add patis and MSG to taste.
When I'm served with a simple sinigang yellow fin tuna, I'm always grateful for having such a healthy dish.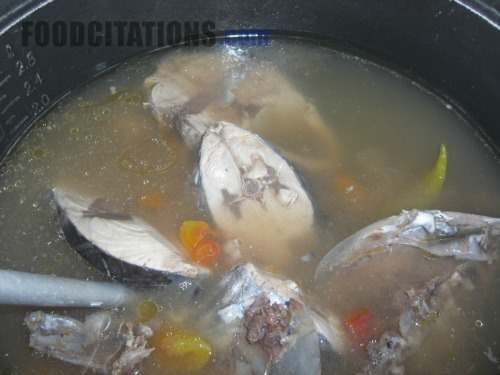 Sinigang Shrimp
This dish lends you a non-fatty, healthy, alkaline, more hearty and sumptous meal.

Since my childhood, this irresistible shrimp sinigang has always been my favorite.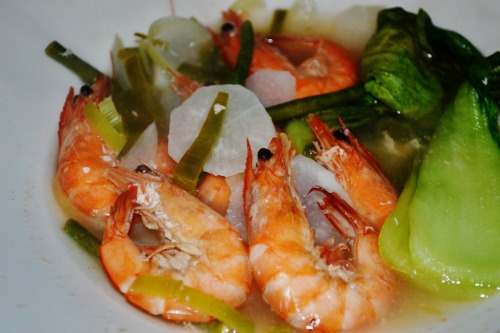 Ingredients...
1 Kilo Shrimp
1 sachet sinigang mix
1 big Onion (diced)
4 big tomatoes (quartered)
1 bundle Chinese cabbage
2 cups chicharo peas
3 pieces green peppers, long
fish sauce (patis) or salt
5 cups water
Procedures…
1. In a casserole, boil water, add sinigang mix, onions and tomatoes.
2. Lower fire, add shrimps, cabbage, string beans and green peppers, simmer 5 minutes.
3. Season with salt or fish sauce. Done.



Wrap Up
A Filipino recipe can satisfy your varied cravings and curiosity for Filipino food. There is not just one of it but several.
The recipes here are simple. You can follow them seamlessly. They are my personal classics… all sugar-free.
Convinced? Try them…
---
Like This Page?
---
---
Return from Filipino Recipe to Filipino Food