" Visa Philippines Relieves Your Crucial Entry Need Into
The Philippines "
Endorsement To Fashion Your Visit Philippines Into A Rewarding, Unhindered Experience
Visa Philippines will relieve your crucial need for entry into the Philippines. It can fashion your visit Philippines into a rewarding, unhindered experience.
Consistent with Philippine immigration law, you can enter the country as a non-immigrant or as an immigrant. Your Philippines visa empowers you the moment you set foot on Ninoy Aquino International Airport, also called Manila airport.
Beginning with your choices of cheap flights to Philippines, you will eventually make the trip to measure the Philippines as a top destination choice to see, live or invest in.
Here are more insights for further comprehension…
Visa Philippines Requirements… To Proceed Unhindered
Your best, error-free source of information regarding requirements for a visa Philippines is the Department of Foreign Affairs (DFA).
Visit its website at http://www.dfa.gov.ph, click 'consular services', click 'visa information' and click 'visa guidelines'. The 'visa guidelines' link will return a 1,500-word requirements list.
As a general rule, any nationality (except those classified as restricted nationals) is admitted into the Philippines without visa for an initial authorized stay of 21 days and extendible for another 38 days.
Those with entry visas - foreigners who obtained temporary visitor visa from a Philippine consulate are admitted for an initial stay of 59 days.
Both categories of temporary visitors may be granted extensions ranging from 1 to 2 months at a time, not exceeding 1 year.
Temporary visitors who have stayed in the Philippines for at least 6 months must secure an Alien Certificate of Registration (now ACR I-Card is being implemented) and a Certificate of Residence for a Temporary Visitor (CRTV) and fingerprinted.
There are currently 154 countries whose nationals are allowed to enter the Philippines without an entry visa. In contrast, there are 48 countries where visa is required of their nationals.
To find out where you belong, please see http://immigration.gov.ph, then click 'frequently asked questions' and 'general information'.
You can get the immigration fees for all kinds of visa from the same website. Once there, click the 'immigration fees' link.

Visa Philippines Application… Just Do It
You can get this application done at the Philippine Embassy or Consulate nearest your place in your country. There maybe additional paperwork as deemed necessary.
If you engage the services of a visa consulting firm, you will not sweat it out, but of course you have to pay for consulting fees.


Visa Assistance Philippines… Effective And Available
Visa assistance in the Philippines is widely practiced by private visa consulting firms. Such assistance is beyond the functions of government agencies.
If you want to have more time to refine your vacation plan for your Manila travel and subdue your impatience, consult, at a little additional cost, these firms…
swaggy.com/visa.php
visaandimmigrationassistance.com
bdc-consultancy.com
manilavisa.com.
These firms can even extend parallel booking services for flights to Manila or flights to Philippines.
Business Visa Philippines… Get It Then Prosper In Your Entrepreneurship
Ordinarily, you need the following if you apply for a business visa…
A valid passport with at least 6 months validity remaining
One 2" x 2" size photograph taken within the last six (6) months. Applicant's signature must be affixed on the front side of the picture
One visa application form, (F.A. Form 2) completely filled out and signed
A valid visa back to your country.
A letter of invitation from the host company in Philippines
A letter from the company in the applicant's country stating the purpose and duration of the trip.
A photocopy of the applicant's airline ticket or confirmed travel itinerary… maybe either from Philippine Airlines, Cebu Pacific or Air Philippines.
Proof of financial capacity (e.g. travelers cheques, latest print-out of credit card account's
A photocopy of the applicant's airline ticket or confirmed travel itinerary.
To corroborate your business efforts, the DFA has institutionalized the issuance of the APEC Business Travel Card (ABTC) to bona fide businessmen. This card facilitates and streamlines your entry to the economies of the Asia-Pacific region.
Cardholders are saved the hassle of applying for individual visas or entry permits in 17 Asia-Pacific nations.
Here's the ABTC card sample back-to-back…
Permanent Resident Visa Philippines… To Settle Home
You can obtain a permanent resident visa in the Philippines as an immigrant should you wish to settle home in-country.
There are 2 kinds of visa for immigrants…
Quota/Preferred Immigrant visa – this is governed by an order of preference and granted to aliens with or without nationalities and is issued on a calendar basis and cannot exceed the numerical limitation of 50 in a given ear. The foreigner must come from a country which allows Philippine citizens to become immigrants in that country and this privilege must be embodied in a reciprocity agreement.
Non-quota Immigrant visa – not subject to numerical limitation or any order of preference
There are 7 categories for Non-quota immigrant visa…
13(a) – issued to a foreigner on the basis of a valid marriage to a Philippine citizen; If the foreigner is from a country of which the Philippines does not have an existing reciprocity agreement, only a temporary residence visa (TRV) will be issued to him.
13(b) – issued to a child who was born outside the Philippines during the temporary visit of the mother who has been previously admitted for permanent residence in the Philippines.
13(c) – issued to a child who was born after the issuance of a visa to the accompanying parent;
13(d) - issued to a woman who lost her Philippine citizenship because of (i) marriage to an alien; or, (ii) loss of Philippine citizenship by her husband;
13(e) – issued to one who was previously granted permanent residence in the Philippines and is returning to an unrelinquished residence in the Philippines after a temporary visit abroad.
13(f) – issued to the wife or husband or the unmarried child under 21 years of age, of an alien lawfully admitted into the Philippines for permanent residence prior to the date on which CA No. 613 became effective;
13(g) – issued to a natural born citizen of the Philippines, who has been naturalized in a foreign country and is returning to the Philippines for permanent residence.
You can find the requirements checklist for each of the above categories in http://immigration.gov.ph. Once there, click 'immigration visa'. For the fees, click 'immigration fees'.
Recently, the Bureau of Immigration has introduced a new system of Alien Certificate Of Registration called ACR I-CARD which automates the registration process.
The ACR I-Card is a microchip-based credit card-sized identification card issued to registered alien replacing the paper-based ACR. It is fraud- and tamper-proof
Here's the ACR I-Card front…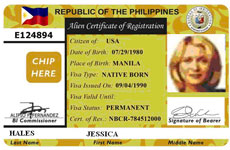 And the ACR I-Card back…
Work Visa Philippines… A Job Accommodation Is Pre-Arranged
A pre-arranged employee visa is a working visa for employees of foreign corporations, with no nationality requirements prescribed. This visa is granted for a term of 1 year, but must not exceed the affectivity of the employment contract.
There shall be extensions, the total of which shall not exceed 5 years, except in exceptional cases where strong justification is shown and the expatriate occupies a managerial/executive position.
Alien Employment Permit is required prior to the issuance of this visa.
There are two types of pre-arranged employment visa…
Commercial visa - Issued professionals.
Missionary visa - Issued to the religious.
Student Visa Philippines… Get It First, Then Study
You need a Philippines Student Visa to study in-country. You must be at least 18 years of age at the time of enrollment and have sufficient means to finance your education.
Here are the requirements for obtaining a Philippines Student Visa…
notarized letter of request from the applicant
duly accomplished and notarized General Application Form
clearance certificate from the Bureau of Immigration
NICA (national intelligence central agency) clearance
clear copy of applicant's passport
original health certificate issued by the Bureau of Quarantine, or any other government health organization
original notice of acceptance (NOA) with the school's dry seal and a written endorsement from the registrar's office
police clearance
visa fee
In closing…
Visa Philippines is your crucial tool for entry into the Philippines. It can fashion your visit Philippines into a rewarding, unhindered experience.
With your visa as a non-immigrant or as an immigrant, you can come and gauge the Philippines as a top destination choice to see, live or invest in.
Enlightened?
Come See, Live or Invest in the Philippines.

---
Like this page?
---
---

Back to top of this page

Return from Visa Philippines page to Philippines Travel page

Return from Visa Philippines page to Top Destination Choice The Philippines Home Page