" Misamis Occidental Fits Your Tours, Residential And Trade Needs "
"There's Always A Top Philippine Provincial Destination Choice"

Misamis Occidental offers broad amenities and pervading culture and heritage, and inspiring pilgrimage. Along with other Philippine provinces, it meets your tours, home or business wants.
Once Northern Mindanao's center of influence in the mid-18th century, it is regaining prominence today. Its current impressive economic gains indicate business opportunities.
As an agro-fishery-industrial dynamo, it meets your needs for a historical, cultural and pilgrimage destination with mixed urban-rural setting.
More…
Share Your Thoughts, Experiences Or Stories About Misamis Occidental
Do you have something to tell about Misamis Occidental? Share it here. Just fill the form below.

Useful Information
Location
Here's a simple Map of Misamis Occidental…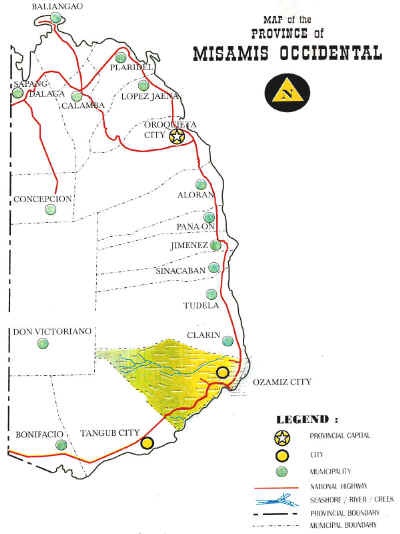 Weather
Rainiest in August-November and driest in February-April. 
Brief History
The province was previously called Misamis. It was originally peopled by indigenous people called Lumads, in which the Subanon tribe was dominant. Circa 1700s, Misamis was threatened by marauding pirates from nearby Lanao.   
The pirates used to abduct 500 Filipinos a year to sell as slaves to the Dutch's United East India Company in Java, or to the Portuguese in Jakarta. Northern Mindanao was hardest hit, particularly Misamis.  
To evade the pirates, many Subanons migrated to Misamis Oriental and Zamboanga del Norte, particularly Dapitan.
In 1756, Father Ducos built the Fort Santiago Ozamis to defend against the pirates. He named it 'El Fuerte De Nuestra Señora Del La Concecion Del Triunfo' (Our Lady of Triumph) in honor of Our Lady of the Immaculate Conception. He also created a naval armada he himself commanded.
In 1929, Misamis Occidental was founded following the division of Misamis into two… the other half is Misamis Oriental.
In World War II, the province was briefly occupied by the Japanese invaders. It was liberated in 1945.
Finally, peace embraced the province.
Its capital is Oroquieta City which also seats the Provincial Capitol.
Subdivisions
The province has 3 cities… Ozamiz, Oroquieta, and Tangub.
It has 14 towns… Aloran, Baliangao, Bonifacio, Calamba, Clarin, Concepcion, Don Victoriano, Jimenez, Lopez Jaena, Panaon, Plaridel, Sapang Dalaga, Sinacaban, and Tudela.
Transportation
The province is a 1.5-hour flight from the Manila Airport. The Ozamiz City Airport is in Gango.
Get around the province by bus, mini-bus, van, jeepney, tricycle, motorcab or pedicab.
Language
The dominant tongue in the province is Cebuano. The people also speak Tagalog and English. A native dialect called Subanon is spoken by the Subanon Tribe.


Historical
Attractions in Misamis Occidental
Fort Santiago (Cotta) in Ozamis City
This fort is an officially declared historical landmark. It was built in 1756 by Jesuit Fr. Jose Ducos as defense against marauding Muslim pirates. (Image by: skyscraprecity.com)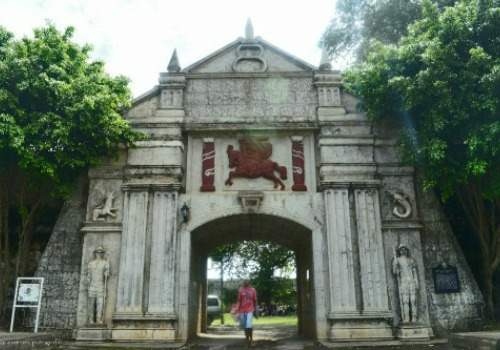 There's a vintage cannon at the fort…(Image by: journeysandtravels.com)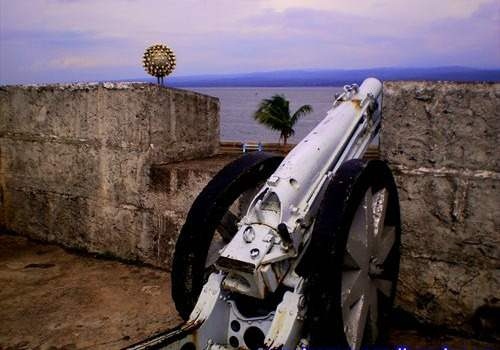 Outside the western wall of the Fort is the Shrine of the Nuestra Señora de la Conception del Triunfo (Our Lady of Triumph). The miraculous Image of the Immaculate Conception is carved on the walls of the Fort. Its size is enlarging over time. Pilgrims from all over the country visit it.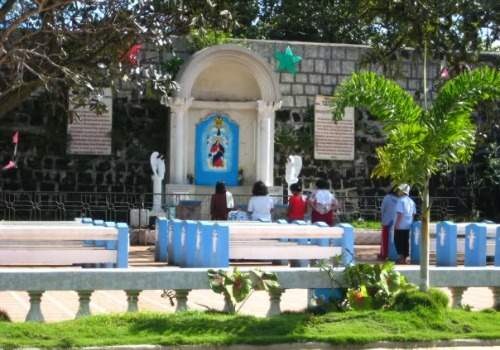 Bukagan Hill in Malaubang, Ozamis City
Atop this 92-meter hill are four massive bells named "St. Peter", "St. Marien", "St. Joseph" and "St. Michael." The bells were intended for the Immaculate Conception Cathedral. However, the bells were too heavy at 7 tons for the cathedral's belfry.
Century-Old Nazareno Dam in Plaridel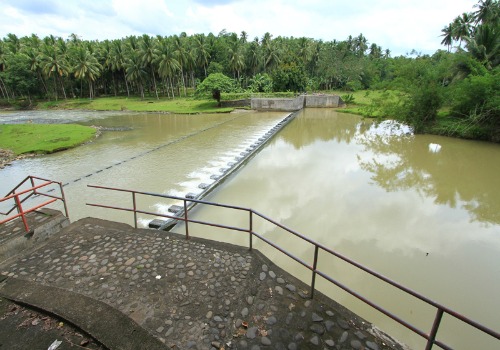 Heritage Houses



There are several ancestral homes in the province. Here's the Baccaro Ancestral House which is now being used as a printing house...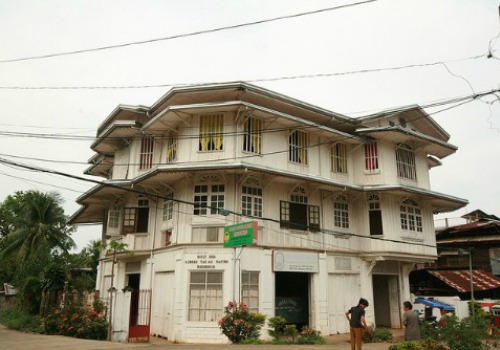 And also this Jose Ozamiz ancestral house...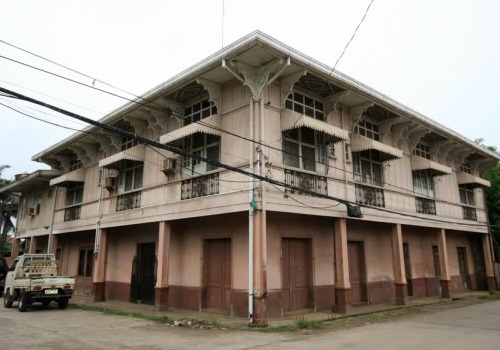 Cultural Attractions in Misamis Occidental
Pipe Organ of Immaculate Conception Cathedral of Ozamis City
Composed of 1,936 pipes, it is the only pipe organ in Mindanao. It is only surpassed in size by the pipe organ of the Manila Cathedral.
Pas'ungko S'g Mis Occ Festival of all Festivals
This festival commemorates the Founding Anniversary of the province. It is held every 1st week of November. Pas'ungko is a Subanen word for 'thanksgiving'.
Dalit Festival of Tangub City
This festival celebrates the feast of Saint Michael the Archangel every 29th of September. Dalit means 'offering'.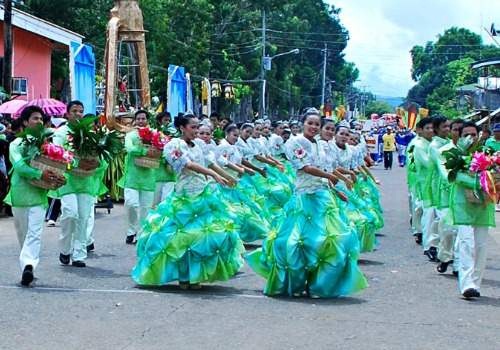 Subayen Keg Subanon Festival (Ozamiz City)
A week-long festivity marking the feast of Nuestra Señora de la Conception del Triunfo (Our Lady of Triumph) every 16 July each year. Here are real Subanon Tribesfolk at the Subayen Keg Subanon Festival
Sinacaban Fluvial Procession
It's an event practiced by the Aglipayan catholics of Sinacaban honoring Saint Joseph. (Image by: flickr.com)



Natural Attractions in Misamis Occidental
Mount Malindang Range Natural Park
This 53,000-Hectare Asean Heritage Park is a wildlife sanctuary to such species as the Philippine eagle, Philippine deer and tarsier. It's a great bird watching site, too.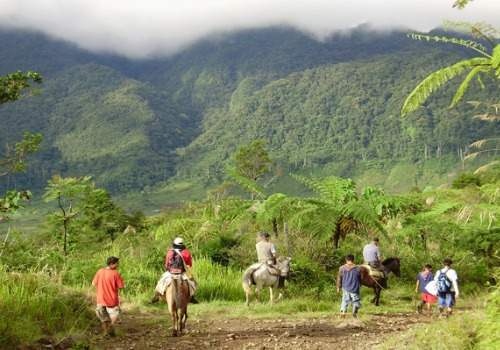 Lake Duminagat in Don Victoriano
Still unspoiled and part of Mount Malindang Range…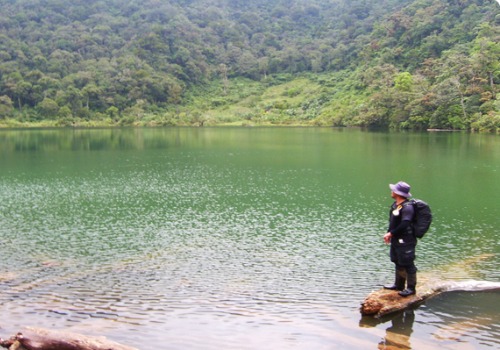 Sibucal Hot Spring (Oroquieta City)
Natural hot spring in Mount Malindang Range, ten kilometers from Oroquieta City proper. (Image by: panoramio.com)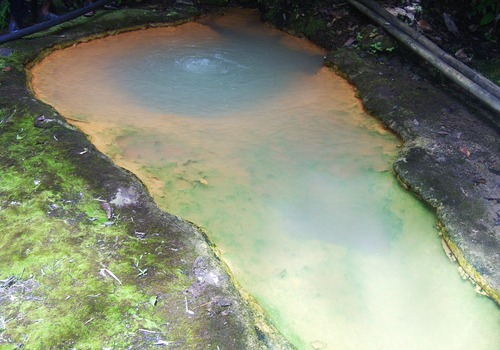 Siatong Falls in Mount Malindang Range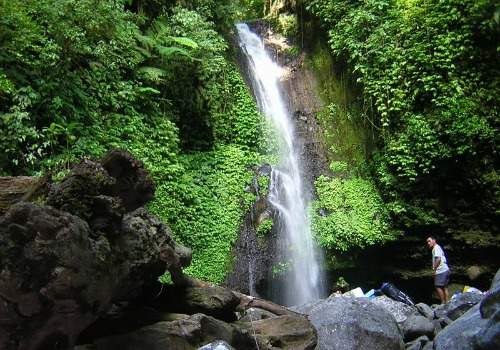 Image by: gedul56
Guiban Falls of Conception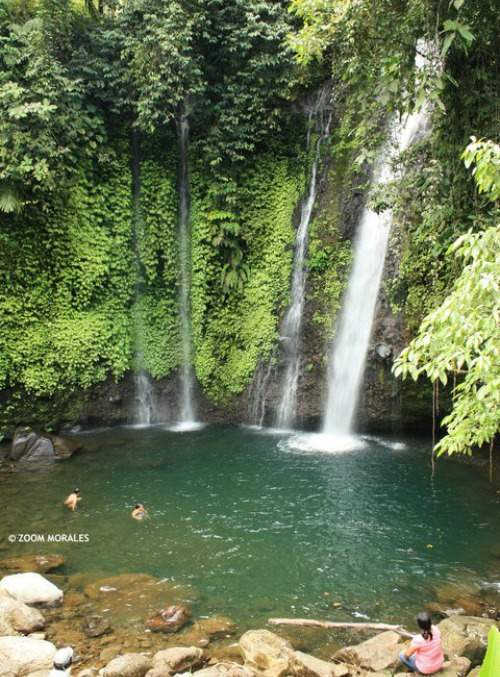 Image by: skyscrapercity.com
Sapang Dalaga Falls of Sapang Dalaga
Formerly called Baga Falls.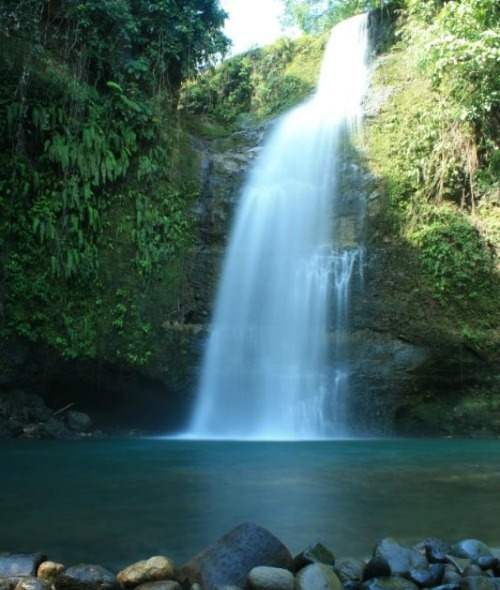 Piduan Falls in Don Victoriano
The waters of this falls gush out from the cliffs… similar to that of Asik-Asik Falls in Alamada, North Cotabato. (Image by: panoramio.com)
Sunrise Beach (Baliangao)
Stretch of fine, white sandy beach, best for swimming and boating. (Image by: skyscrapercity.com)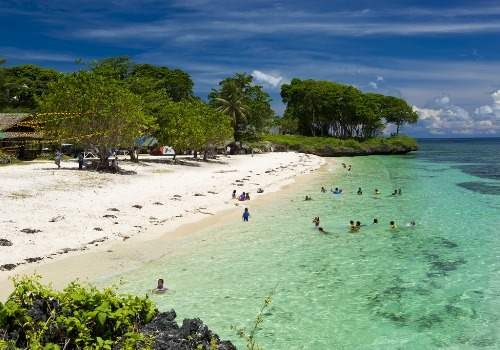 Man-Made Attractions in Misamis Occidental
Misamis Occidental Aquamarine Park (MOAP)
The province' top resort destination co-located along the mangroves of Tudela and Sinacaban. It is inherently a wildlife sanctuary for both marine and terrestrial animals.
Here's part of the park's network of boardwalks….
MOAP's Long Boardwalk Stretching Seaward

A MOAP Inn at the park… (Image by: juanguide.com)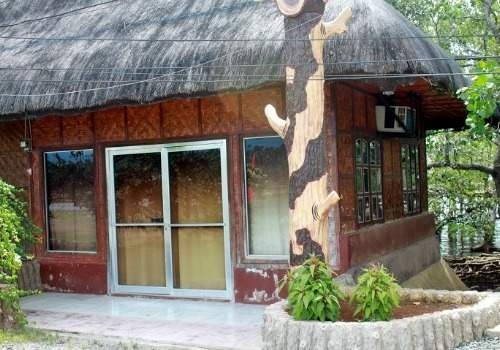 The main attraction of MOAP is this offshore man-made structure called Dolphin Island which serves as rehabilitation center for injured dolphins.
Swimming with Playful Dolphins at Dolphin Island

Image by: skyscrapercity.com
Naomi's Botanical Garden and Tourist Inn in Ozamis City
This 13-hectare garden showcases a variety of plants and flowers, orchards and other different species of flora and fauna.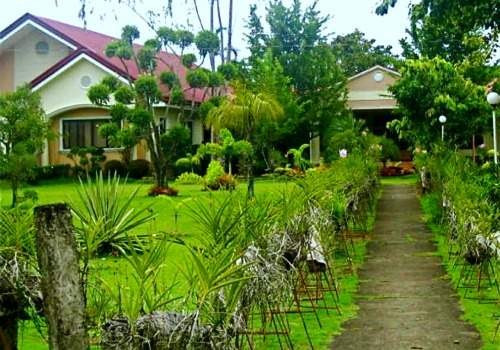 Hoyohoy Highland Park in Tangub City
A scenic, cool adventure park. It operates two ziplines,  the country's longest. (Image by: boyetstour.blogspot.com)
Regina Swimming Pool of Ozamis City
It offers a natural pool from the cool Calusaran Springs.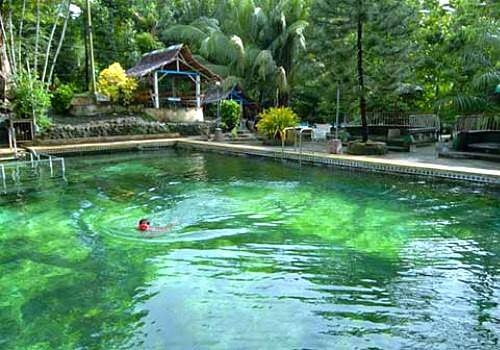 Coco Island Resort in Clarin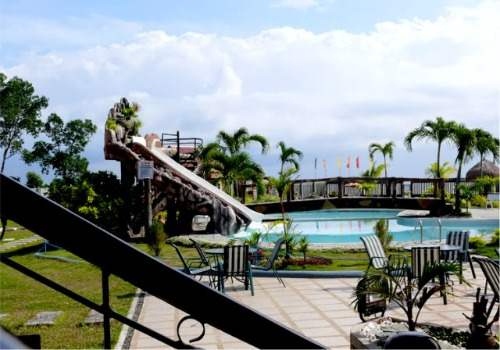 Image by: skyscrapercity.com
RAFI Beach Resort in Baliangao
At low tide… (Image by: skyscrapercity.com)
Circiaco Pastrano Hanging Bridge (Oroquieta City)
A 75-meter long, 20 feet high hanging bridge connecting barangay Layawan and Taboc Norte.
Villa Roberta Garden Resort (Tangub City)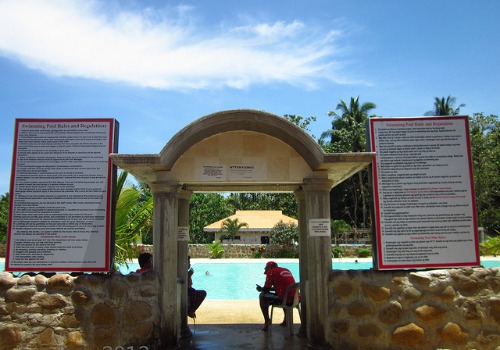 Roma's Swimming Pool & Zipline in Tangub City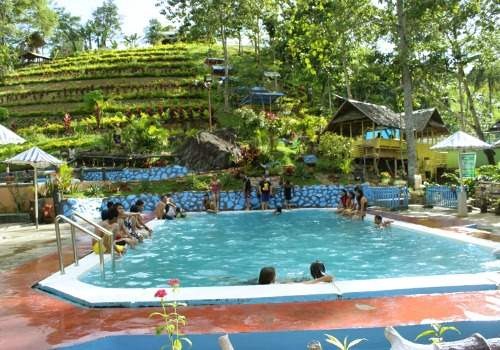 Oroquieta City Plaza
Located in front of the Oroquieta City Hall… considered as the mini Luneta Park of the province.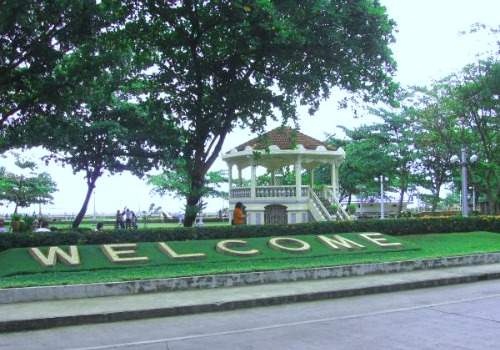 Cotta Park and Shrine
The public park in the vicinity of Fort Santiago Ozamis.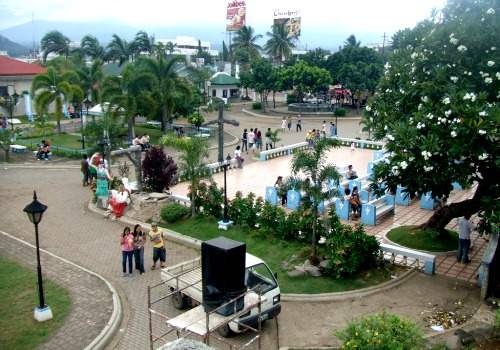 Religious Places of Interest in Misamis Occidental

Examples…
Immaculate Conception Cathedral in Ozamis City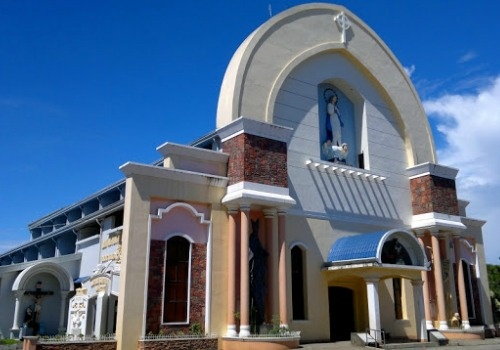 Image by: pinasmuna.com
Oroquieta City Parish Church
St. John the Baptist Church of Jimenez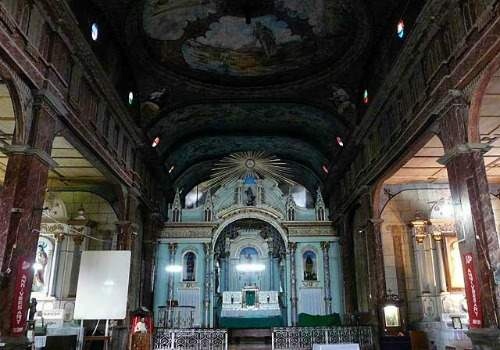 Lodging

in Misamis Occidental
You will always find a good place to stay in the province at $7.00-51.21 price range.  
Examples…
Royal Garden Hotel in Ozamis City – Starts at $12.00 (P495)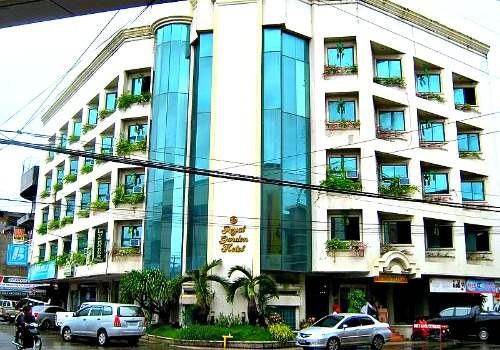 Plaza Beatriz Hotel, Ozamis City – Starts at $13.41 (P550)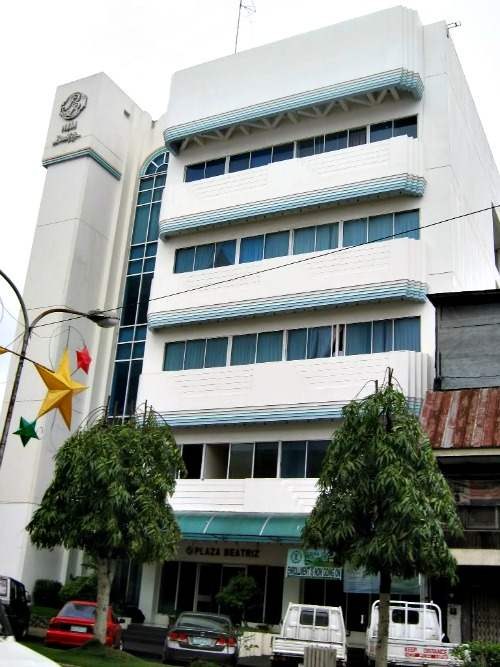 Rhovics Place Hotel & Restaurant in Oroquita City – Starts at $14.60 (P600)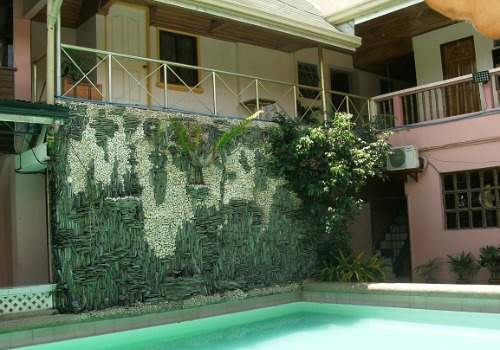 Sheena Hotel in Oroquita City – Starts at $29.26 (P1,200)
Executive Villa at Naomi's Botanical Garden – Starts at $109.75 (P4,500)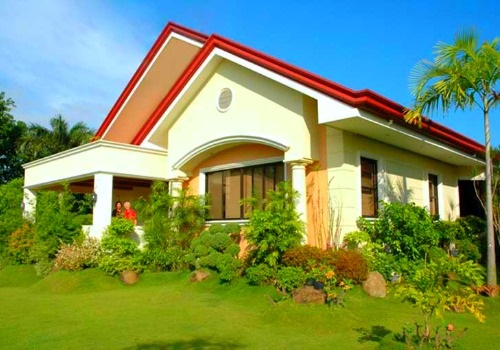 Where to Eat in Misamis Occidental
The province has many simple-to-finest restaurants. At $5-12 (P200-500), you can have your fill.
Examples…
La Veranda Restaurant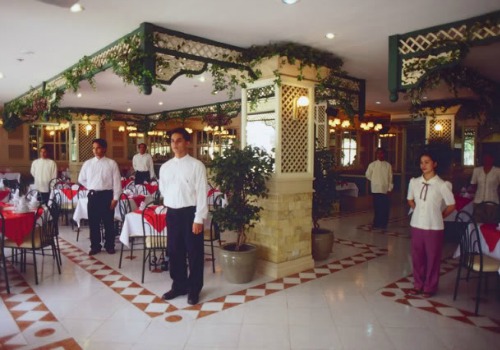 House of Suman in Clarin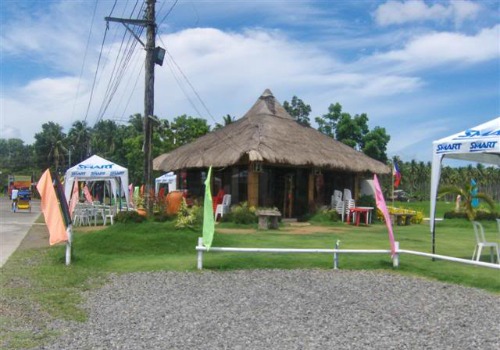 (Image by: atmytabletop.com)
Palayan Seafood Restaurant in Sinacaban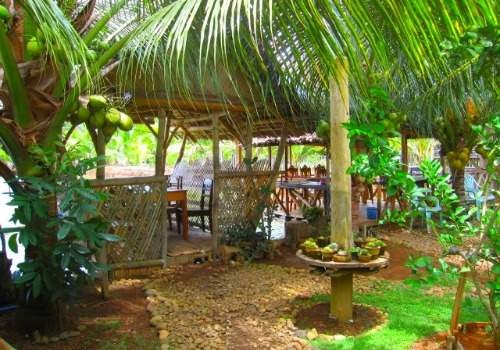 Delicacies of Misamis Occidental
Moron of Plaridel
A sweet tasty treat made of glutinous rice or rice flour mix, chocolate, sugar and coconut milk, rolled and wrapped in banana leaves then boiled or steamed.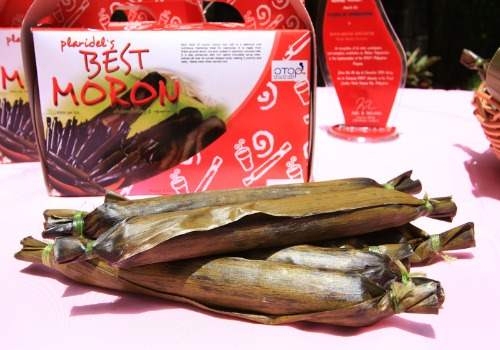 Suman of Clarin – The World's Best of Its Kind
The specialty of Clarin is hard to miss. It's my favorite anytime of the day. It's made from 'malagkit' rice, pure coconut milk and sugar.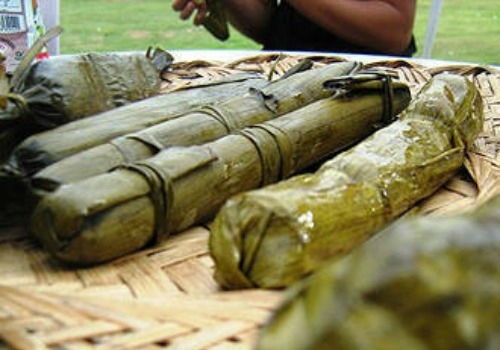 Shopping in Misamis Occidental
The province has adequate and increasing shopping establishments which also count national brands.
Gaisano Mall in Ozamis City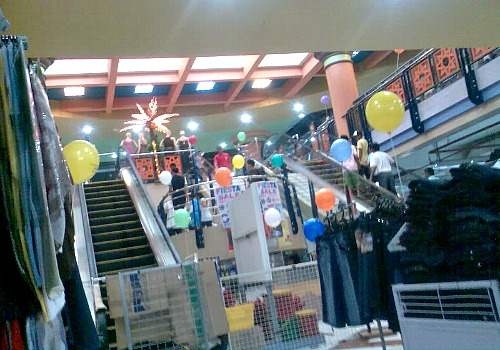 Ozamis Public Mall
The biggest public mall in Northwestern Mindanao.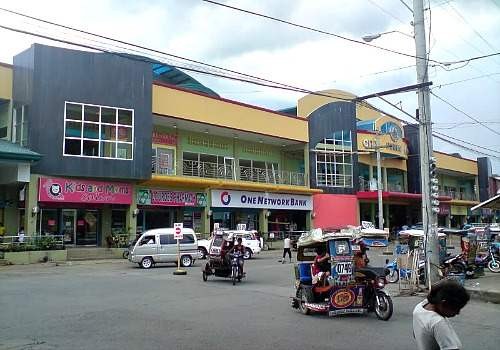 Souvenir Shop at Aquamarine Park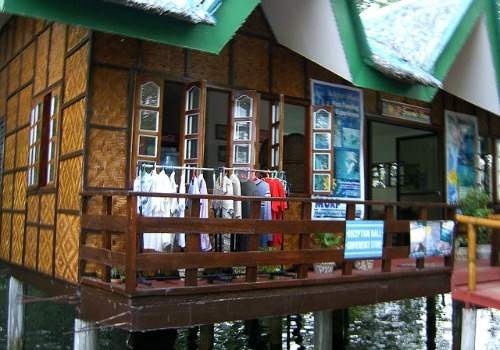 (Image by: flickr.com)

Nightlife in Misamis Occidental
There are very few outlets to swing in the province during the night. So far, the best is…
Celtic Lounge in Ozamis City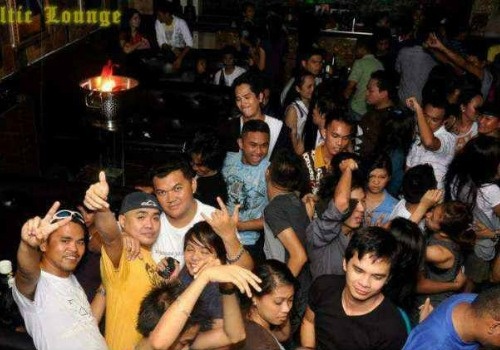 Happy Customers at Celtic Lounge in Ozamis City. (Image by: skyscrapercity.com)

Economic Beat of Misamis Occidental
As elsewhere throughout the country, the province's economy is on the upsurge.
Some major contributors…
JOMI (Jimenez Oil Mill, Inc.) in Jimenez
Produces crude coconut oil and copra expeller cake/meal. (Image by: Google)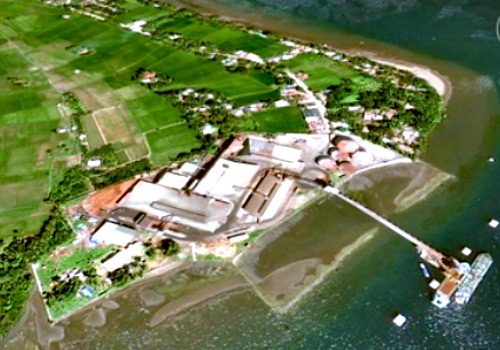 Expanding Ozamis Seaport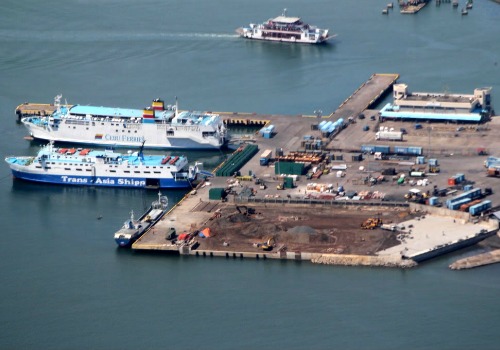 Fuel and Oil Depot
Three of the countries' top oil firms operate fuel and oil depot in Jimenez. (Image by: skyscrapercity.com)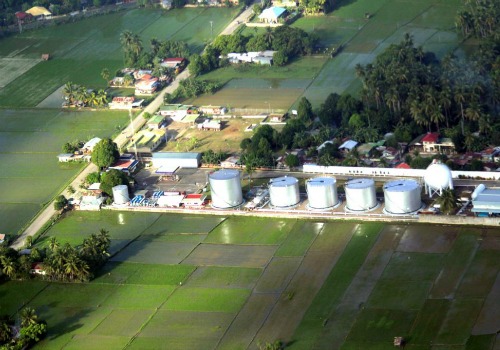 Live or Retire in Misamis Occidental

Domicile
The province is safe to live in or retire. The people are friendly and religious. You could rent a mid-range house there at $187-625/month (P7,500-25,000). Cost of goods is low.
Education
The province can adequately meet your or your family's academic needs.
Two examples…
Misamis University in Ozamis City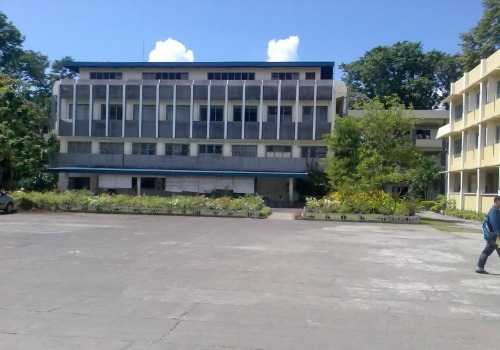 Image by: skyscrapercity.com
La Salle University Ozamiz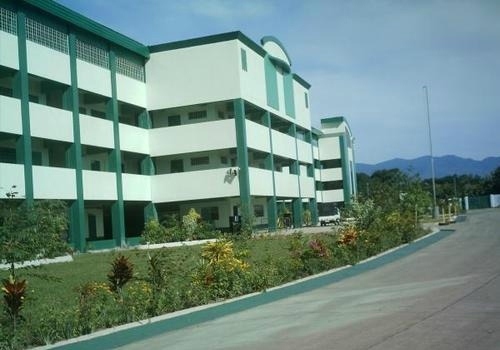 Image by: alltravels.com
Medical/Healthcare
The province has adequate medical/healthcare providers to serve your needs.
Examples…
Medina General Hospital in Ozamis City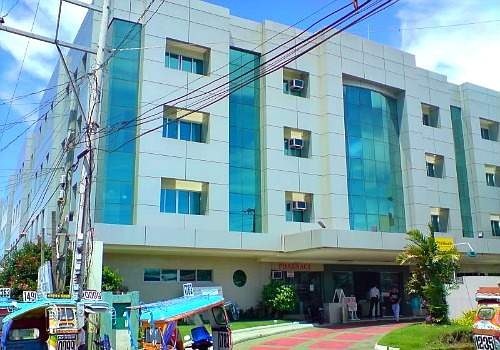 A tertiary private hospital.
MHARS (Mayor Hilarion A. Ramiro Sr. Regional Training and Teaching Hospital)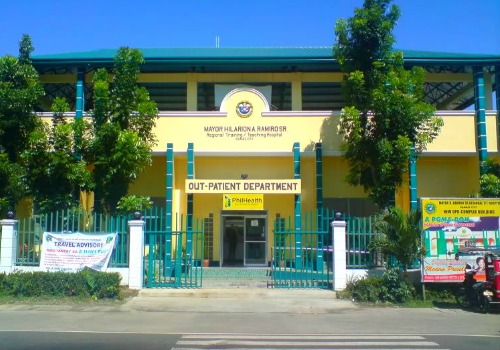 A tertiary government hospital.
Invest in Misamis Occidental
Banks and Financial Institutions
Ozamis City has 30 banks and other types of financial institutions; Oroquita City has 18; and, Tangub City has 1. At least 7 towns of the province have a rural bank.
Communications
The province' communications infrastructure is more than adequate.
Real Estate
The province's real estate industry is exploding.
Labor Force       
English-speaking, highly trainable, artistic, and creative in any job.
Cost of Doing in Business 
Doing business in the province is 35-40% cheaper than California's. It offers tax incentives.
Indicators of Good Business Environment
The province is booming, so get your radar active for business opportunities.

Wrap Up
Misamis Occidental is a provincial destination that meets your tours, residence and/or business needs. It is an agro-fishery-industrial hub that fits your measures of a place to see, live or invest in.
If you want to clarify something, please Contact Me.
Want to experience Misamis Occidental?
Convinced? Come and SEE, LIVE or INVEST in The Philippines.


---
Share Your Thoughts, Experiences Or Stories About Misamis Occidental
Do you have something to tell about Misamis Occidental? Share it here. Just fill the form below.

---

Like This Page?  
---
---
Return from Misamis Occidental to Philippine Provinces